Swim Diapers – Clearance
Code:
99719
99722
99220
99226
99223
99224
99225
99238
Choose variant

Made in Europe

Free Shipping Possible

4 EUR Voucher for Newsletter Sign-up

Sustainable Business

Customer Care and Consulting
Related products
Product detailed description
ATTENTION! DIAPER COVER FOR FREE!!!
How to get a Diaper Cover with our "Saffron + Nordic" pattern for free? Pick 2 items from our Clearance Category and place them in your shopping cart. Free Diaper Cover will be added to your shopping cart automatically. Click here for more information.
Swim Diapers - Clearance
The shape and sizing of this product is the same as with our main "Swim Diapers". The only difference is in design - this is a clearance of designs of our older collection.
Enjoy swimming with your baby! Without the need to take care of uninvited number 2 ;)
- 3 sizes (S, M, L)
- Adjustable elastic waist and hems around the legs
- Washable at 60°C
- Keeps number 2 safely inside (What about No. 1, you ask? That's just not physically possible in water. Not even disposable swim diapers can do that.)
- In case of No. 2 they can be unsnapped and taken off between the legs without having to pull them down all the way. In case you've tried this exercise, you know what we're talking about :-P
Swim Diapers are used on their own, no absorbing insert is necessary. It would absorb the pool :)
Sizing: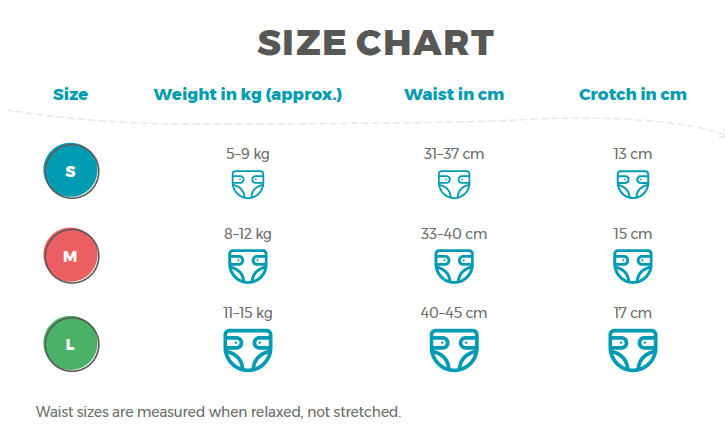 Additional parameters
Category

:

Special Offer
Age

:

Infant, Toddler
Colour

:

Füchse, Medusen, Bau, Meer, Universum, Wiese
FarbeX

:

Füchse, Medusen, Bau, Meer, Universum, Wiese
AlterX

:

Säugling, Kleinkind
Verwendung

:

Schwimmen
Grösse

:

11-15 kg
Swim Diapers
Be the first who will post an article to this item!