Czech Republic is under average.
In what?
In Europe, approximately 32 % of mothers of little children work part time. In the Czech Republic, it's only 9 %!
That's quite scary.
Whereas in Bamboolik it's just the opposite: about half of us work part time! Apart from 3 exceptions (in a team of 16), we all have children (and our 2 exceptions are actually part-time working students). Those of us, who currently work full time, started with us as part-timers, when their children were younger.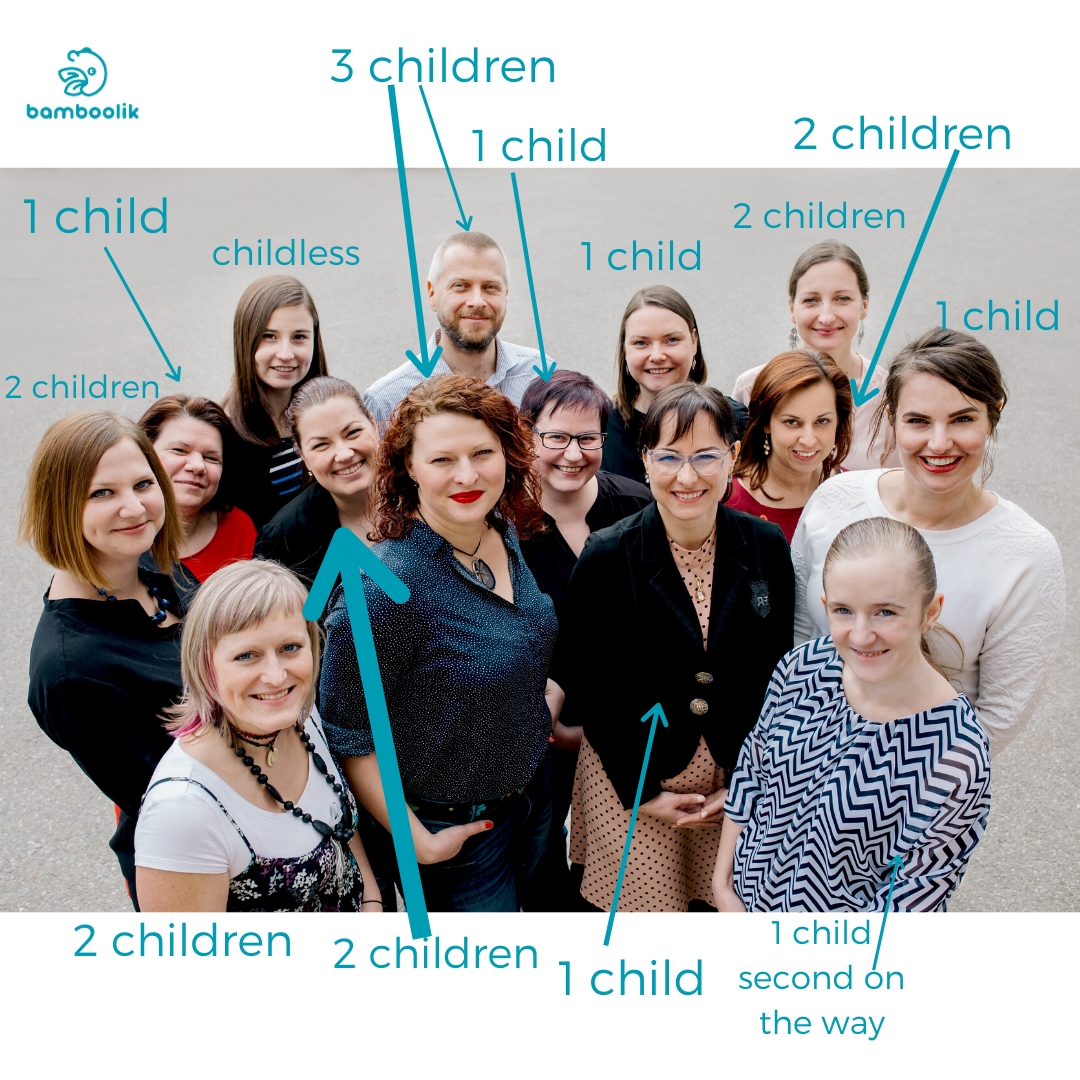 What else could you expect in a company founded by a mum of two sons (2,5 years and 6 months old at the time of founding). We're doing the best we can to make the Czech average number of part-time jobs for mums a little higher. Knowing very well from experience how demanding it is to juggle work and parenting at the same time. We're thoroughly thankful for modern inventions, namely the Internet.;-)
On the other hand, we know the employer's side, too: when you employ mostly part-timers, it could be more demanding for you. You have to clearly define all processes, set detailed rules etc. so that it all doesn't become one big chaotic mess. We have plenty of experience regarding this (and have been through the messy phase, we humbly admit). But truth be told, until now we have been dealing with office jobs that could really be performed from anywhere. On condition there's wi-fi.
In 2020, we're facing a much bigger challenge: We're going to build our own sewing factory! Just a little one :-) In it, we'll employ only mums of small children (at least one child under 4 years or older in case of a single mum). We're offering re-qualification for them (our new colleagues are just mums who like to sew, they're no professional seamstresses) and we'll enable them to work part time, as their schedule will allow them.
We know that creating a functional working schedule for our new seamstresses will be different from managing a bunch of part-timers working on laptops :-) Because a sewing machine doesn't work on wi-fi. And fabric can't be sent via e-mail. So, yes, it will be a challenge, but we're ready to conquer it! Will let you know how we're doing some months in.

The idea to build our own sewing factory is not new to us, we have pondered it many times in the past (every time our heads were spinning from trying to coordinate four different sewing factories at once).
And in case you're new here: From the very beginning of Bamboolik, we have been working closely with 4 sewing factories, 3 of them being sheltered workshops. This was without a doubt the best, the easiest and the most socially responsible arrangement at the start of Bamboolik. But we have to admit we have outgrown that. Managing four individual sewing entities takes such an effort (for instance, some products are cut in one workshop, then transported to another to be sewn there) plus there's the manufacturing capacity of each workshop that we have to always take into account. And there have been times in which we needed the capacity to be much bigger. However, we cannot ask disabled people to work overtime, can we?
Therefore, our own sewing factory has been looming on the horizon for a while now. But it took us some time to figure out how to approach this. Like we thought finding reliable seamstresses would be an impossible task, as we know from the experience of our supplying workshops that reliable seamstresses are like golden nuggets – very hard to find around here :-)
Eventually, we realized that:
Many mums start to dabble in sewing on maternity leave. And many of them are good at it!
We always strive to be more than just a diaper business so why not requalify these mums?
Pretty much hitting two birds with one stone: We're supporting mums on parental leave and we promote it as best practises to other business. And who knows, maybe things will change.
Makes sense, huh?
To be transparent, we admit we could hardly afford to finance this project if it wasn't for European subsidy. Because luckily the EU (and the Czech Republic) does support sustainable projects like this one. Good news for us all!

With the subsidy, we have officially accepted principles of a so-called social enterprise. What does it mean? Not much of a change for us as we consider ourselves to be a social enterprise since our very beginning. The quite boring official definition would be: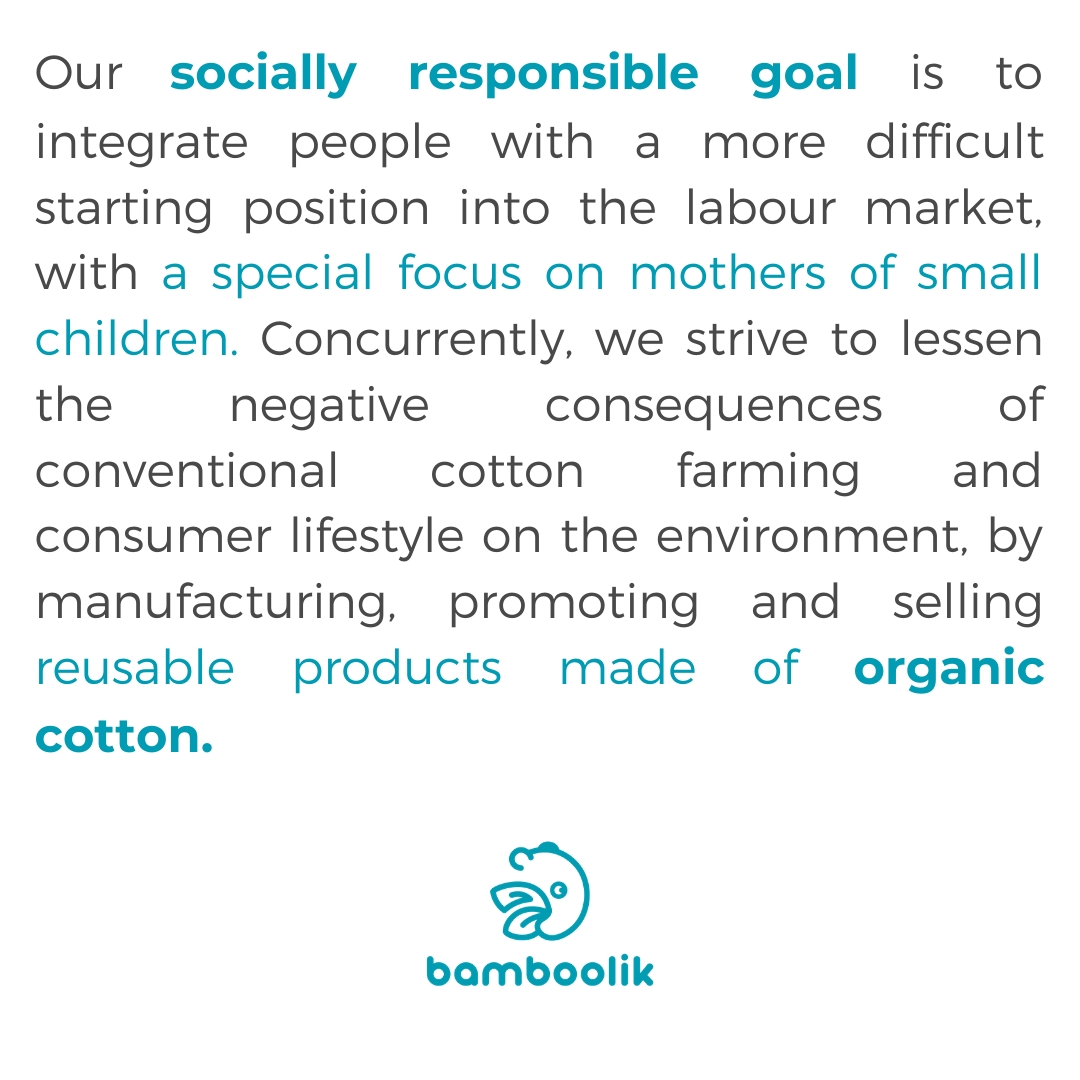 Our new sewing manufacture will work mainly with organic cotton. 2020 will be the year of organic cotton for us! What organic products can you expect from us, you ask? Let us surprise you!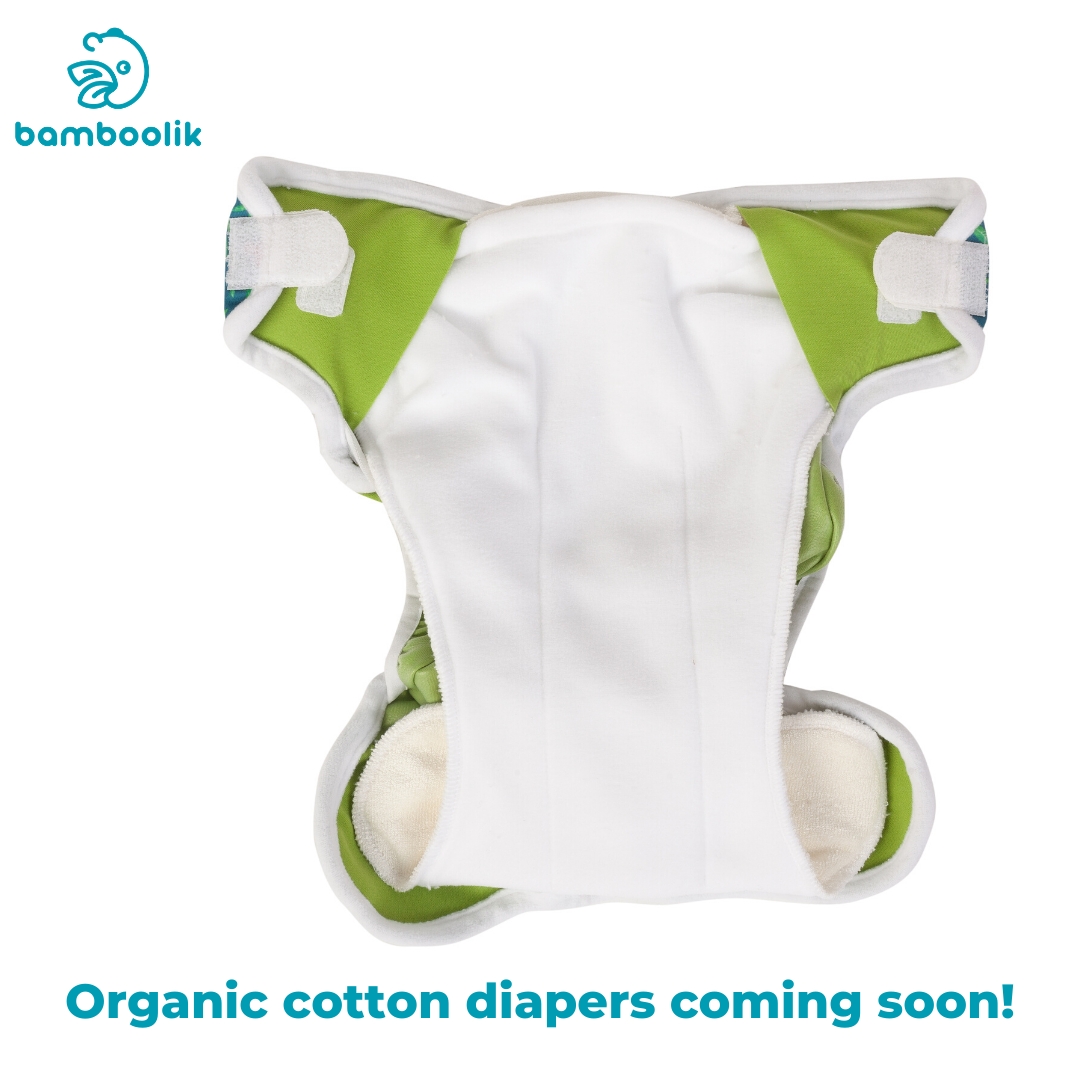 And a little side note at the end
In case you're wondering what will happen with our current cooperating workshops, don't worry! Nobody will lose their jobs. We're building our new manufacture to make brand new products there; our current workshops will still be producing our current products. We have many ideas for new products, and we know that our current workshops won't be able to make them all happen. Thus, we're taking it into our own hands.
Wish us luck!