Muslin Squares are truly a universal piece of cloth! There are many reasons why they've been a staple in every new parent's stash for generations (internationally true!). We use for:
1. Wiping. In case you're still expecting: You will be doing a lot a wiping once your little one is born. You'll spend many hours by wiping. You will wiping all the time, which can seem quite boring but don't worry – the various surfaces you will be wiping will be very diverse! Like your newborn's cute little mouth that leaked a little bit of mother milk at the corner, while your precious little one is falling asleep in a milk coma ;-) At the verge of explosin due to so much love that's literally making your heart expand, you gently tap your baby's mouth. After that, you'll wipe your shoulder that's been puked on. You do that a little less lovingly. And with almost no love left, you'll wipe the wall behing you or your grandmother who just happened to pass by in a wrong moment (true story ;-)).
2. A Muslin Square is the best and most versatile pad! You can put in a crib, pram, playmat, on your shoulder or your arm as saliva protection when your little one is teething. The muslin fabric is super soft to touch and very absorbing at the same time, which is why it's so loved! Moreover, maintenance of Muslin Squares is so easy, they can be machine-washed and tumble-dried.

3. It doubles as a perfect summer blanket! Babies (and not just them) like to sleep covered, the weather notwithstanding and when covered with a light Muslin Square, there's no risk of overheating.
4. Almost every parent has used a Muslin Square as a sunshield! All you need is two pins so you can secure it on your pram and there you have it – a makeshift but very functional sunshield that won't make your baby feel like they're in a closed tent on a scorching day, due to the muslin fabric being so light and breathable.
5. Muslin Squares are very often used as a makeshift comforter. Or how would you like to call it It's because very often babies will be put to sleep with a Muslin Square nearby (as protection against burping up some milk), they get used to it, find it comfortable and then, all of a sudden, they can't fall asleep without their face buried in a muslin cloth and they still fall asleep like that at the age of 3 :-)

6. For older babies, a Muslin Square can double as a bib! Just tie the muslin behind your baby's neck. Super handy for travelling and eating on the go.
7. Muslin Squares can be used as a towel, too! Extra soft and extra absorbing. And extra cute!
8. Entering the teething face, babies very often decide to use a muslin as a teether. Oftentimes, they would prefer and old and washed muslin against super fashionable specially designed teethers that their parents keep purchasing. Sorry about that ;-)
9. Travelling by car and your baby cries because the sun shines directly in their eyes? Just shut a Muslin Square in the car's window and you're set! (OK, OK, we know you can buy special sunshield for the rear passenger windows. However, we also happen to know that these like to fall off pretty often and in the end, they just loost their ability to adher to the glass. After that, you basically have three options: Use Superglue to glue them on for good, let your child squirm in the sun or just use a Muslin Square that you take everywhere with you anyway.)
10. Muslin Squares can provide a lot of fun, too! Who never played peekaboo with a muslin, is not a proper parent, we're sorry to say :-D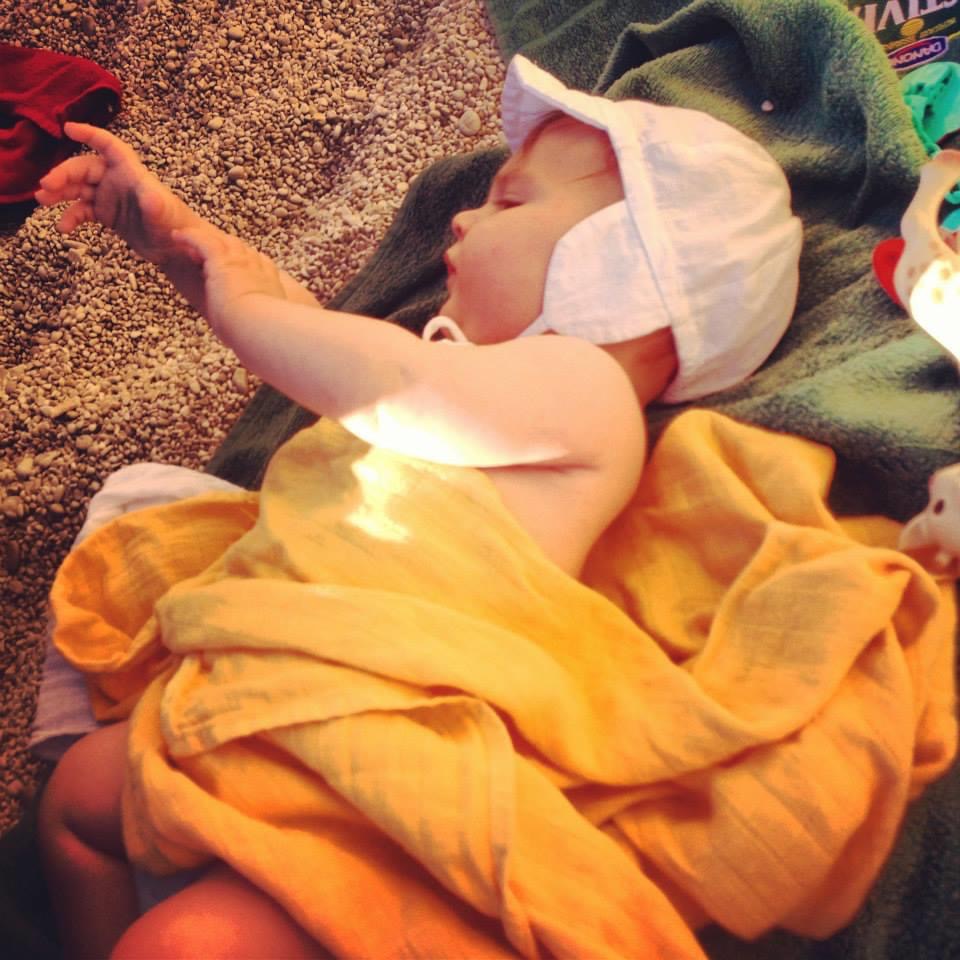 11. You will definitely find ways how to use Muslin Squares in your household even when your children grow out of them. For making your own cream cheese for example. We tested that option for you and we're happy to report that it works!
12. Muslin Squares are also great for polishing reflective surfaces. Windows, mirrors, conference tables, your glasses. Anything goes.
13. Missing a scarf to cover your neck because you're feeling under the weather? Muslin Square to your rescue! Should we go on? :-D
Bonus point No. 14: Will be most likely invented by you! Every new parents need a few Muslin Squares, you'll see
And yeah, we almost forgot. You can use Muslin Squares for their original purpose! Which was as diapers, in case you didn't know :-)
How to use muslin squares as diapers :