The most natural thing
Our Organic Cotton Diaper Line is made of 100% GOTS-certified organic cotton. It's as fancy as it sounds! You cannot get more natural than that.
However. As we didn't want any artificial materials to "pollute" our organic cotton, we didn't add anything to it. That means our most natural organic cotton behaves….. well, naturally :-D It doesn't contain any elastane so it doesn't stretch very well. Actually, with time (and washing), it doesn't stretch at all. And it doesn't contain any polyester that would ensure its 100% shape stability.
But don't worry! We just think it's fair to let you know about these specifics. So that you're not surprised when your new diaper inserts shrink a bit (we take shrinking into account and make them bigger). After washing them repeatedly, they will also lose some of its softness and fluffiness. We surely regret but we cannot make natural material to behave unnaturally. Unfortunately. But we have good news in this regard: a tumble dryer will certainly help to preserve most of its softness and fluffiness, if you own a tumble dryer, you're lucky! Moreover, the fact that the diapers will become coarser and less fluffy after washing, doesn't mean they will lose its absorbing capacity. Quite the contrary! They will absorb even better – it's like your favourite well-washed towel.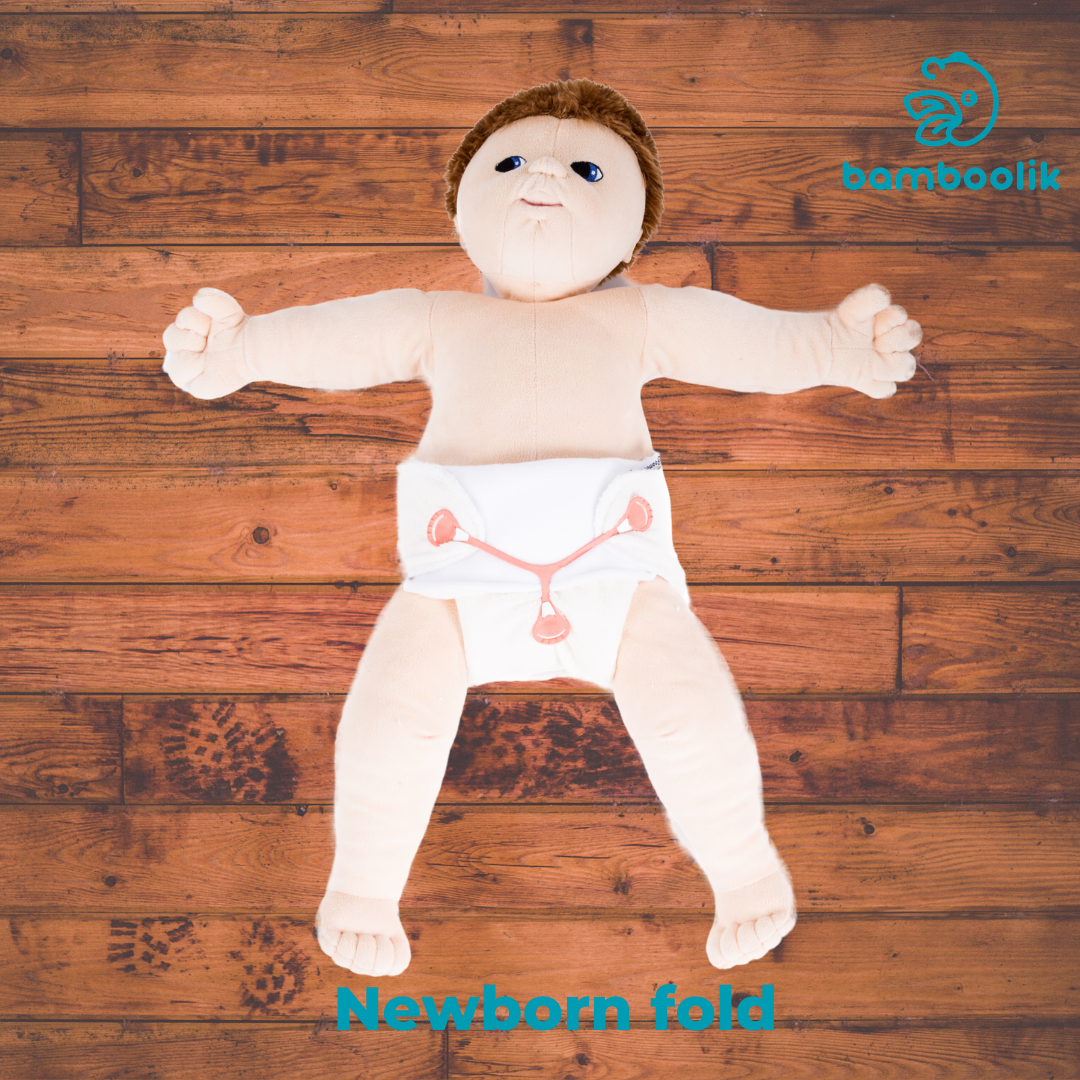 Snappi fastener is your best buddy
Because we make our organic cotton diaper inserts a bit bigger (they shrink to the right size), they may look way too big for your baby at first glance. Especially when you compare them to our DUO Absorbing Inserts. In that case, try a newborn fold for your baby! It fits perfectly and it makes your baby's bottom pretty slim. Organic cotton inserts can be folded perfectly around your baby's little legs and because it's coarser than diapers from artificial fabrics, it stays folded.
Organic Cotton Absorbing Inserts are made of cotton terry that has higher loom – Snappi fastener clings to it perfectly (here you go, newborn fold!). However, the loom can tighten during washing – with the fabric becoming denser and tighter, too. And because there's no added elastane, it might seem difficult to put a Short or Long Organic Cotton Absorbing Insert inside the pocket of an Organic Cotton Shaped Insert. On the other hand, denser fabric means these inserts will last forever!
Looming on the horizon
Higher loom in our organic cotton terry means great absorbing capacity! It also means a loose thread might come out of it once in a while. How to prevent that?
Watch out for Velcro! We strongly recommend securing all Velcro fastenings (on Diaper Covers and Pocket Diapers) every time you lay your hands on your organic cotton inserts in the vicinity a Velcro :-) Velcro can pull out a thread in no time! And be sure to tightly secure all Velcro fastenings every time you wash your diapers. Or don't be surprised when you pull out a gigantic diaper ball out of your washing machine.
A few threads may become loose at the edges of your organic cotton inserts after washing. Don't panic! With more washings, they will most likely crawl back; if not, just take your scissors and cut them, no remorse ;-) Nothing will happen if you cut them, they don't affect the functionality of the inserts at all.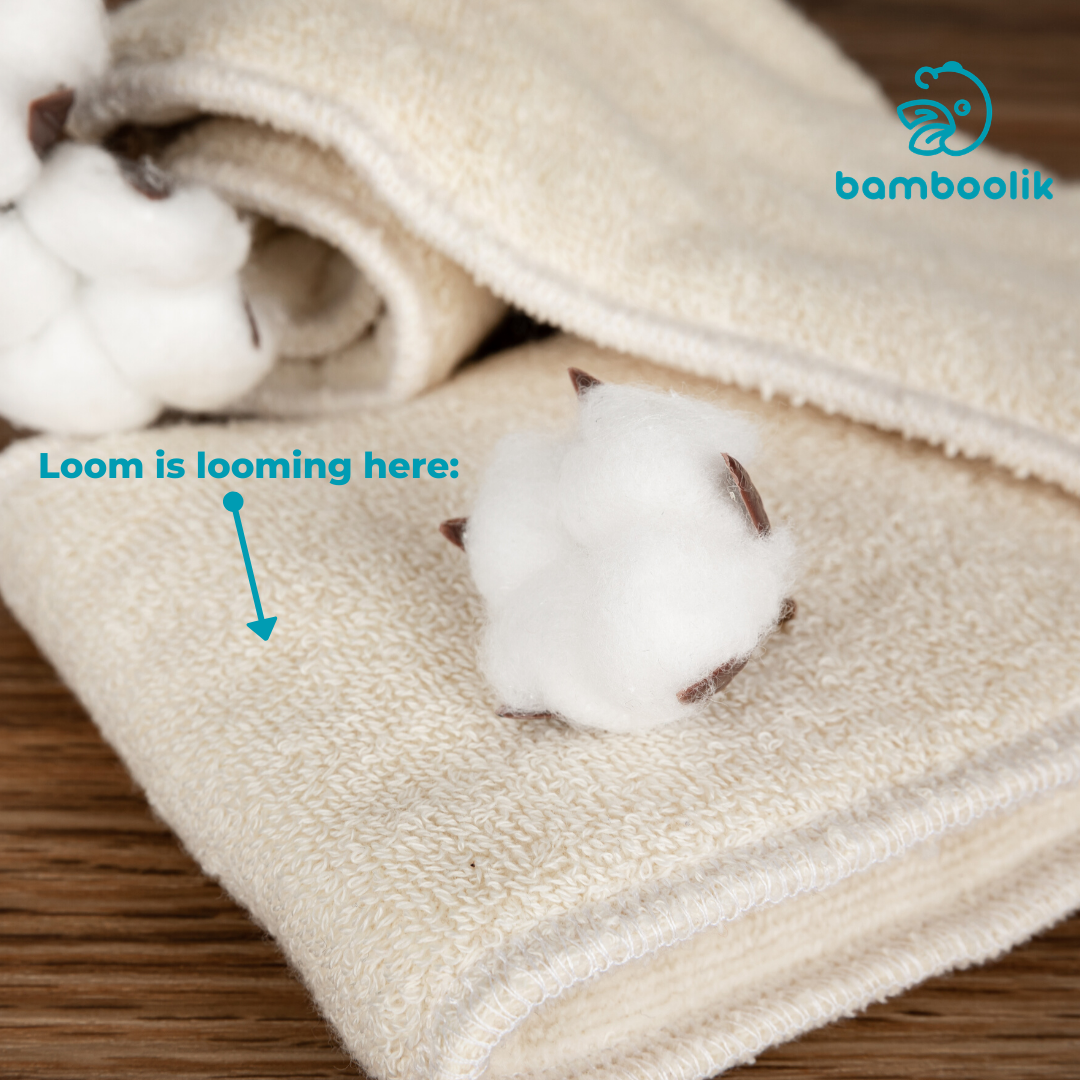 Organic Cotton Absorbing Inserts are great, we promise!
With all that has just been said, it sounds a bit like we're trying to advise you against our organic cotton diapers. Not at all! They're wonderful very absorbing diapers that help to save the environment twice –by switching to washable diapers instead of disposables and by choosing a more sustainable and eco-friendly fabric. Our organic cotton is GOTS-certified (GOTS = Global Organic Textile Standard) which means you can be sure the highest standards of cotton production were met in its making: The lowest possible amount of chemicals was used during cotton growing and also during manufacturing of the cotton thread (great for the soil and water in the area, beneficial for the farm and factory workers, too), fields alternate crop every few years and all workers involved in the cotton production got fair wages.
So, which insert will you choose?