Whether you're buying things for your baby-to-be or just looking for cheap diapers, here are useful tips on how to save money on diapers. And quite a lot of it.
Buying things for a baby is a topic for every parent-to-be: These things can be expensive! And are a strain for your family budget. Also, the fact that you might easily get lost while searching the for the best deals on the baby market (especially if you're a first-time-parent), doesn't help much.
Diapers are a very substantial part of your baby budget. A lot of parents don't realize it but you actually spend so much money on diapers! It's just not that obvious as you usually don't buy diapers for 2 years all at once, you spend the money continuously. But have you ever looked at the total numbers?
We have! Do you ever get the feeling that your money is flying out of the window? Well, with disposable diapers, it's more like it's going in the trash. LITERALLY. Look at numbers! (In our chart, we count with 2 years as the average diaper period. We know it could be shorter for some potty prodigies :-) but it could also be longer. We think 2 years is just a good approximation, maybe even slightly underrated.)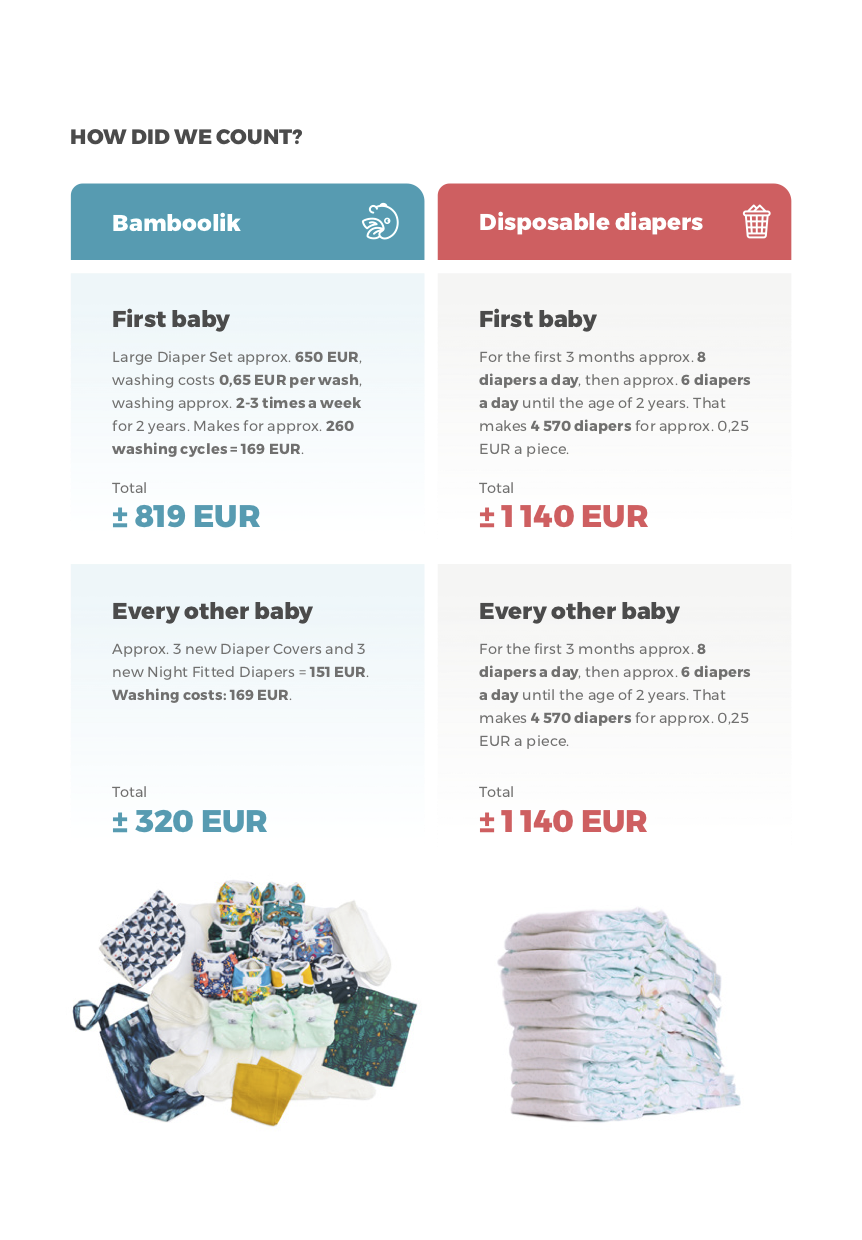 How to save money on diapers?
As you can see, disposable diapers for one baby will cost you about  1 140 EUR. With every other child, this sum just adds up—these diapers cannot be passed to a sibling!
How to navigate this black hole of your family budget?
Convert to cloth diapers! Don't be deterred by the maintenance. It's a piece of cake with modern fabrics, practical accessories (separation liners) and modern appliances (your best friends the washing machine and the tumble dryer)! Also, you don't need to convert to cloth 100%— even if you use disposables here and there, you'll still save a significant amount of money (it could work like this, for example: use cloth in the comfort of your home, use disaposables when out and about).
If you can afford a one-time splurge on cloth diapers, have a look at one of our large diaper sets (they contain everything you might need diaper-wise, from birth to potty). But there are other ways that could save you even more money!
Oldies but goldies
Remember old-fashioned cloth diapers that were used more than 30 years ago? If your parents or grandparents still have them, get your hands on them if you can! These are usually of very good quality and super soft as they have been used a lot. A proper diaper stash used to contain approx. 60 pieces of gold old diapers.
If you have that, you're almost settled! Just buy a few waterproof diaper covers, some separation liners to make your life easier (for cleaner diapers changes) and we would maybe recommend getting some short absorbing inserts to boost absorbing capacity at night or for longer naps.
Your diaper budget could then look like this:
All in all, you spend 258,- EUR on diapers. This is an absolutely sufficient diaper stash for the first 6 months.
Toddler upgrade
It's doable to get through the entire diaper period with the diaper stash we've just described. But with some babies/toddlers, the changing interval might get uncomfortably short as they grow (the bigger the baby, the more absorbing their diapers need to be).
An inexpensive toddler upgrade might involve prefolds. A prefold (if you're not familiar with cloth diapers terminology just yet) is a simple rectangle that has more layers and therefore is more absorbing. We'd recommend our Organic Cotton Muslin Prefolds for daily use and our Organic Cotton Absorbing Booster for the night. Your cost for optional toddler upgrade of your diaper stash might then look like this:
To sum up, diapers for the entire diaper period might cost you just around 400 EUR. To put this number in perspective—you could buy disposable diapers for approx. nine months for that. Not many children are fully potty trained at the age of nine months. Moreover, cloth diapers can be used by your other children, too.
By the way, even if you don't feel like changing info muslin squares—they are a must have in a household with a baby! There are at least 13 reasons why you need muslin squares for your baby.
How to use muslin squares as diapers? Have a look at our video: