Value Sets | Reusable Sanitary Pads | Satin & Organic Cotton
Code:
92252
92253
99920
92582
92584
92583
92585
Choose variant

Made in Europe

Free Shipping Possible

4 EUR Voucher for Newsletter Sign-up

Sustainable Business

Customer Care and Consulting
Related products
Product detailed description
Reusable Sanitary Pads | Satin & Organic Cotton - Value Packs 
Choose one of our sanitary pad value set. It is not possible to change the design selection in these sets.
In case you wish to get a different combination of colour patterns, buy any number of our satin sanitary pads sold by 1 piece. There is a bulk discount on them if you buy more pieces of each colour.
In average, approx. 150 kg of non-biodegradable waste is produced during one's life in used disposable menstrual items. Quite a heap, isn't it?
Want to do something about it? Try reusable sanitary pads! You'll soon find out that cloth menstrual pads have many pros.
Why should you consider cloth menstrual pads?
Because they're sooo comfy! Disposable menstrual pads are mostly made of artificial materials, we offer you certified organic cotton of European origin. That's a different league!
They're much more breathable than disposables. Which makes them perfect for women who suffer from repeated infections and similar problems.
They're thin but super absorbing.
Our cloth pads have the best fit! They're not cut from one piece of fabric, wings included. The wings are sewn on the body of the pad and are separated by a hem around it. That means nothing will leak onto the wings and the pad always stay put.
They're a delight to look at! (Especially these satin ones. And yes, we know that no-one will see them. But it doesn't matter, you'll know! Walking around with a beautifully designed piece hidden in your underwear counts! :-))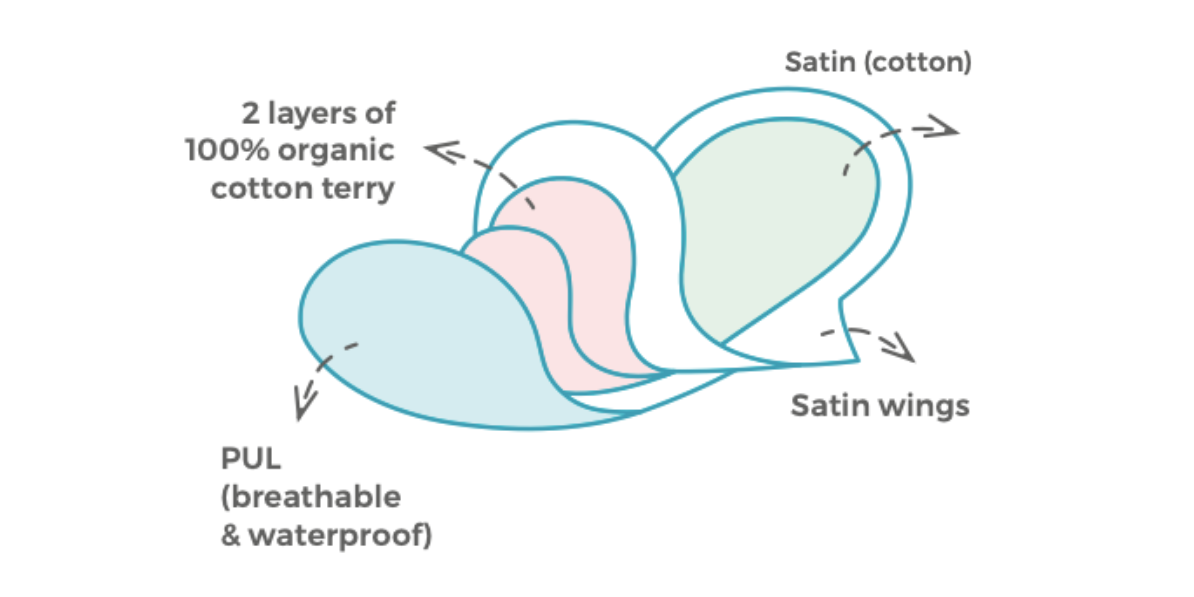 When to use a day pad?
It's a sufficient substitute for a disposable sanitary pad. You may use it even for the night. Only in case your night bleeding is very intensive, you might prefer our Overnight Pad instead. On the other hand, towards the end of your cycle just a panty liner might suffice.
Perfect for that later time after delivery when you need to wear some kind of protection every day, but it doesn't have to be as absorbing as in the first days (For those, our Overnight / Maternity Pad is the perfect choice).
Very suitable who those who suffer from light incontinency.
How many cloth pads do I need?
This depends on the length and the strength of your cycle. Which is very individual for every woman and can't be generalized. We'd recommend counting how many disposable pads you use during your average cycle and buy the same number of reusable pads.
Cloth pads are nothing for you? Understood, we have women like you in our team, too ;-) In that case, you should have a look at our menstrual cup, that's a game-changer for any woman who prefers inner protection during her cycle.
And one more thing: These pads were manufactured in our small sewing factory that employs mothers of small children or single mothers. From women to women :-)
Measurements: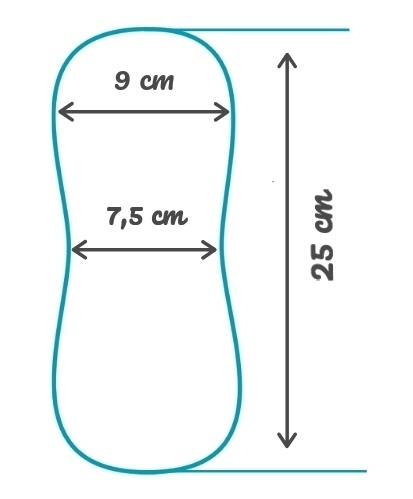 Usage:
Place the pad in your underwear, with the patterned side facing your body = the monochrome PUL side facing your underwear. Secure the pad using the snap or velcro fastening. 
Maintenance:
Wash before the first use. For more information about maintenance, look here.
Please note: After the first washing, the length of the product may be slightly shortened, as it is made from natural material (100% cotton), which tends to shrink by its nature. After it shrinks this one time, the length of the product is fixed and no further shortening occurs. 
Still don't know for sure what period products are for who and when? Read our article on the eternal dispute: Sanitary Pads vs Tampons. Or have a look at another one where we describe in detail all eco-friendly period products — so that Mother Nature doesn't bleed with you.
Live Webinar: FAQ Reusable Sanitary Pads
Reusable pads for an eco-friendly period
Stoffbinden für die Zero Waste Monatshygiene
Be the first who will post an article to this item!