DUO | Pocket Diaper with NO Absorbing Insert
Code:
92721
92715
92716
92720
92714
92452
92053
92050
92052
92599
92051
92055
92453
92221
Choose variant

Made in Europe

Free Shipping Possible

4 EUR Voucher for Newsletter Sign-up

Sustainable Business

Customer Care and Consulting
Related products
Product detailed description
Pocket Diaper DUO with NO Absorbing Insert
The simplest and most reliable Pocket Diaper out there! Usable for the entire diaper period (approx. 3,5 – 15 kg).
Anyone can change into this diaper! Even a babysitter or your mother-in-law :)
What makes Bamboolik's Pocket Diaper unique?
The perfect cut. Double hems around your baby's legs equal no leaks! In case you're familiar with our Diaper Covers, you know that double hems are gold - they're quite literally bulletproof. Or stoolproof :) To quote those who have tested our new Pocket Diaper: "100% reliable. A Ferrari among reusable diapers!"
It's the most universal reusable diaper! Its waterproof pocket is lined with bamboo rayon on the inside - bamboo rayon is celebrated for its absorbing capacity and being able to absorb a lot of liquid very fast. A priceless asset especially when it comes to baby boys! Even a strong stream of liquid is absorbed immediately, without any of it "escaping" to the sides.
It's not a reusable diaper "for the show" – this one's got you covered even at night! (Just add more absorbing inserts for older babies/toddlers.)
Pocket Diaper dries fast! If you have some experience with a true AIO (All-in-One) Diaper, you know that all those absorbing layers sewn together dry for ages! Tumble dryer being no option in this case as it could damage the waterproof lamination. With Bamboolik's Pocket Diaper, you literally dismantle the diaper so that all the absorbing layers can be chucked into the tumble-dryer and the pocket itself dries in a few hours.
One-size diaper – adjustable size thanks to 4 rows of snaps at the front of the Pocket.
You can always add any absorbing insert in the pocket – be it one of our AI2 DUO Absorbing Inserts, a folded Muslin Square, a prefold …. anything you have at hand.
OUR TIP: Would you like for your baby to feel comfortably dry even in a wet diaper? Use one of our AI2 DUO Absorbing Inserts and put their Stay-Dry layer as the contact layer to your baby's skin. Or use Stay-Dry Diaper Liners.
Our Pocket Diaper doesn't make your little one's bum huge! It fits snug and lean, thus enabling free movement of legs - very important for correct psychomotor development.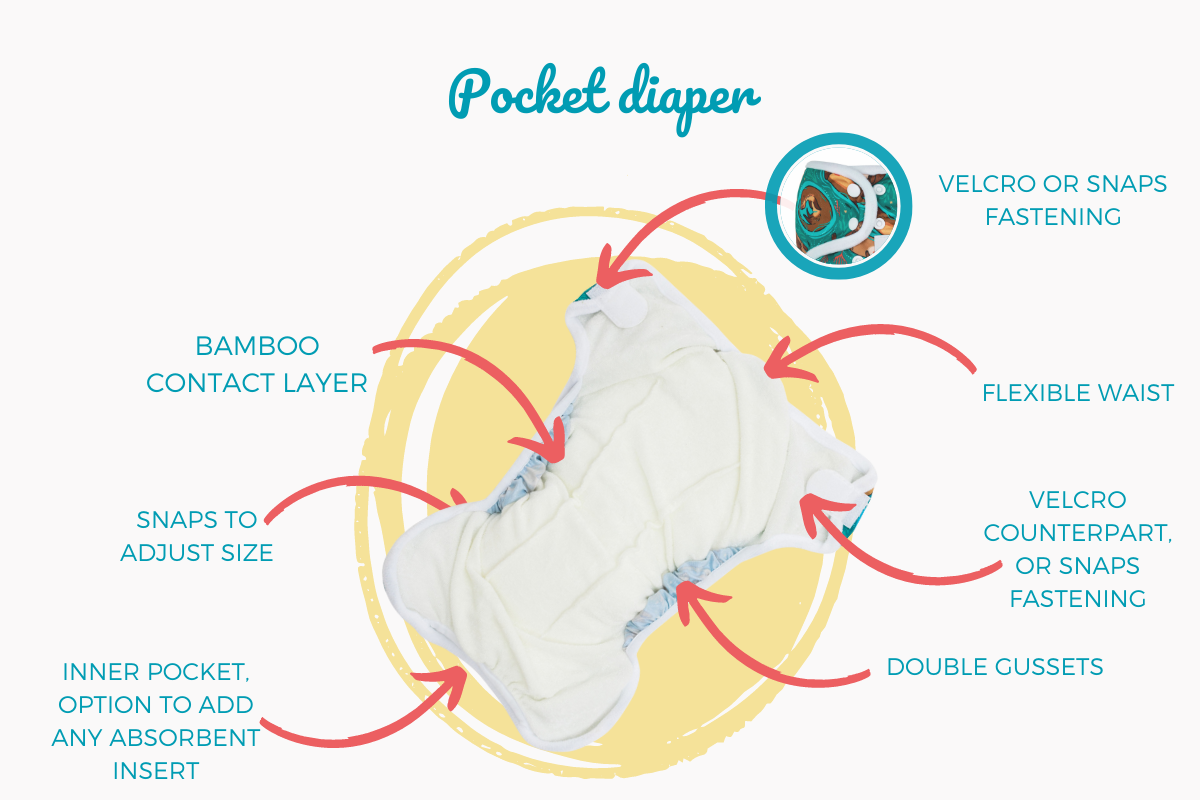 Fastening type - velcro or snaps?
In our book, velcro is more universal as the streak with loops is sewn on the entire front part — that means you can fasten the hooks exactly where you need with perfect precision. With snaps, you're limited to the spots we chose for the opposite snaps (there's a lot of them, but the variety will never be as broad as with velcro). On the other hand, it takes longer for toddler to learn to undo snaps. (But don't worry, one day, they WILL learn. And as with everything else, it's just a phase and it will pass.)
Heads up! This diaper was made in the Czech Republic by a Czech company, from materials produced and bought in Czechia or any other European country. More on our approach to social responsibility in this article.
How to take care of this diaper?
Pocket Diapers can be washed together with any absorbing inserts at 60 degrees (Celsius). Choose the longest programme on your washing machine. Pocket Diapers should never be tumble-dried! In general, be gentle with the pocket - its waterproof lamination is a fragile thing. It hates being washed by hand (never do that!) or dried on a direct source of heat (heating unit or even direct summer sun).
Additional parameters
Category

:

Pocket Diapers (AIO)
Age

:

Newborn, Infant, Toddler
Colour

:

Blumen, Füchse, Australische Tiere, Medusen, Eisbären, Einhörner, Farnkraut, Rochen, Tiere des Nordens, Verliebte Otter
Contact Layer

:

Bamboo
FarbeX

:

Blumen, Füchse, Australische Tiere, Medusen, Eisbären, Einhörner, Farnkraut, Rochen, Tiere des Nordens, Verliebte Otter
KontaktschichtX

:

Bambus
Grösse

:

4-15 kg
Verschluss

:

Klettverschluss
How to use Pocket Diaper DUO?
Pocketwindel DUO by Bamboolik
Be the first who will post an article to this item!