Considering reusable diapers for your baby? Do you need help to get to know all the types, sizes, and materials of cloth diapers? And how to combine them so that you have just the perfect amount of diapers—not too many, not too few? Read on!
Types of cloth diapers
The most basic rule for cloth diapers is this one:
A cloth diaper needs to have an absorbing layer and a waterproof layer.
Here comes the first division:
Diapers with

separate

waterproof and absorbing layer.
Diapers with these two layers sewn

together

.
Diapers halfway between these two—

Pocket Diapers

.

Fitted Diapers

—basically the most sophisticated version of the first type of cloth diapers with the absorbing layer, having more or less the same cut as Diaper Covers.
In case you need to understand the pros and cons of each system, have a look at our article on Types of cloth diapers. Go and read it NOW, if you haven't done so (in order to understand the rest of this article). We'll wait for you :-)
…. coffee break…..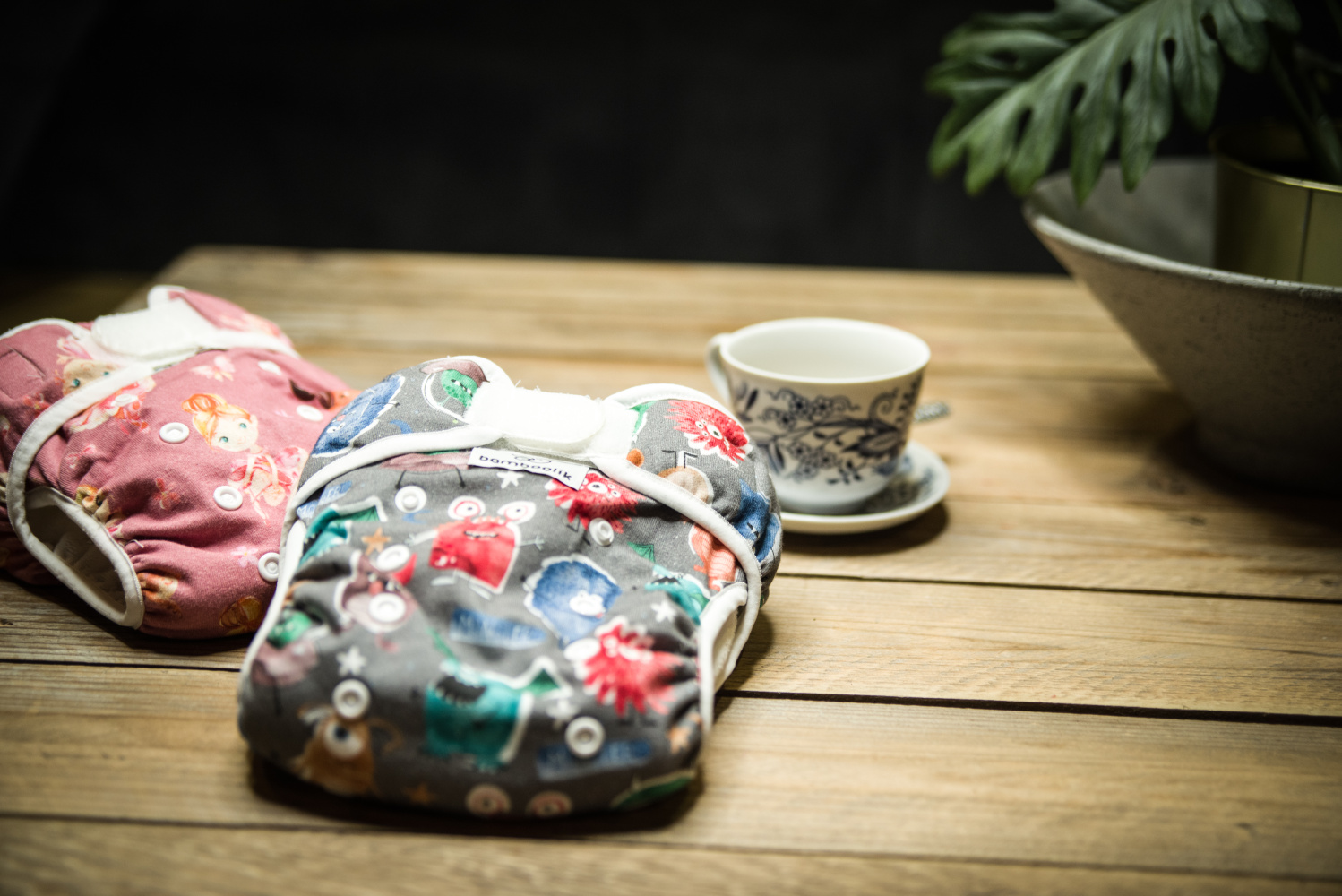 So. Welcome back. Now you know what diaper system you'd like. Let's get into it and build the perfect cloth diaper stash for you.
First things first! We need you to honestly answer these questions:
How often do you plan to wash your diapers? Some don't mind loading the washing machine daily, some prefer every other day, some even stretch it to three days. (Don't go beyond that; the bacteria present in soiled diapers might thrive too much.) In our book, washing diapers every other day is ideal—it's not too much of a chore and it's sufficient to keep your diapers bacteria-free.
How fast will your diapers dry? If you have a tumble dryer, you can wash and dry your diapers in just a few hours (count wit approx. 6 hours as you will have to use a long washing and a long drying programme). If you're going to air dry your diapers, count with 24 hours for them to dry completely. Maybe even more, in case you live in humid environment. (You can speed up the drying process by putting the absorbing inserts on your heating in winter or hanging them outside in the sun in summer.)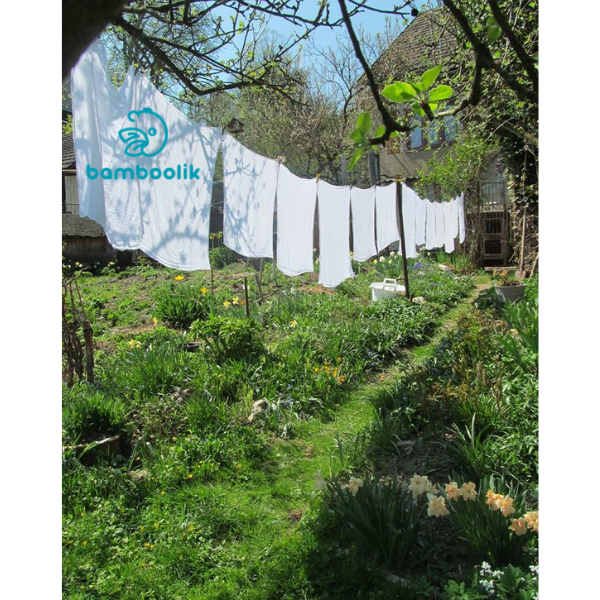 How many cloth diapers do I need?
Right after your baby is born, they will need 8-10 diapers a day. Over time, the average number of diapers will decrease a bit—count with approx. 6 a day (by day, we mean 24 hours). We have a helpful article on our blog regarding How often you should change diapers—check it out if you need tips on this subject.
Doing a little calculation…. and the result is: You need 20-25 diaper changes for a well-balanced diaper stash. This is a sufficient number when you intend to wash your diapers every other day (we count an entire day for drying). If you have a tumble dryer, go for 20 diapers. Go for 25 if you plan to air dry.
This number can be slightly lower if you don't mind washing your diapers every day. But we do. In our book, it's too much of a stretch. You might fall sick, miss just one day of washing, and run out of clean diapers the following day. We think it's good to have a backup to fall back on.
What is considered one diaper change? There are many options, according to the type of cloth diapers you prefer using. One diaper change can be:
Don't forget to add Diaper Covers everywhere when there's no waterproof layer. That is for every just mentioned diaper change apart from the first one—AIO and Pocket Diapers. These two are complete diaper changes that don't need anything else.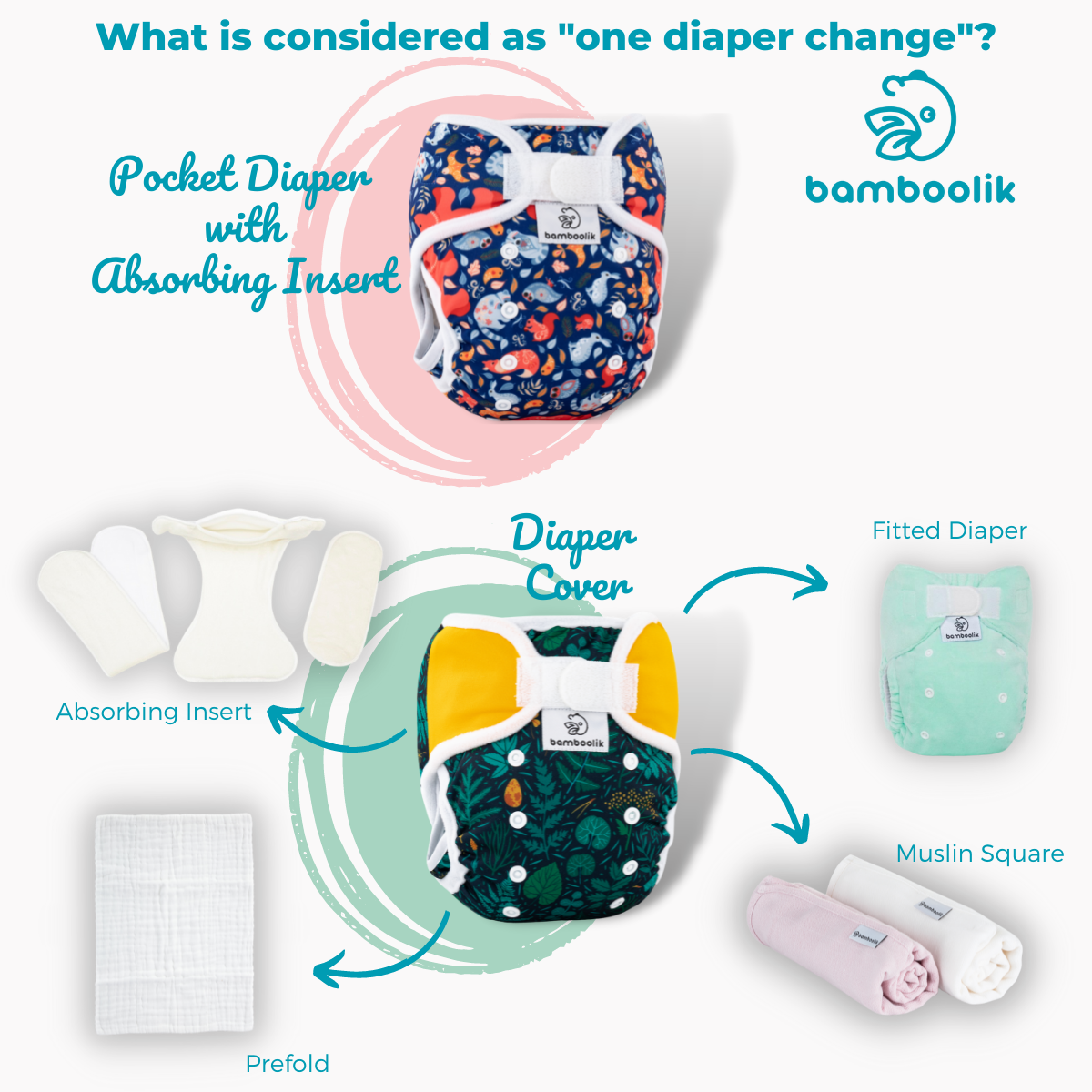 How many Diaper Covers do I need?
Our recommendation is six of them. That's a sufficient number even for the newborn stage when the stool is liquid and Diaper Covers get dirty more often.
Later on, when your baby starts eating baby food and their stool is not liquid all the time, the bare minimum of Diaper Covers might be about four. However, in most cases, you'll get rid of diaper changes at night (hoorray! :-)), and Diaper Cover which got you covered the entire night tends to absorb some odour and needs to go in the wash even after just one use.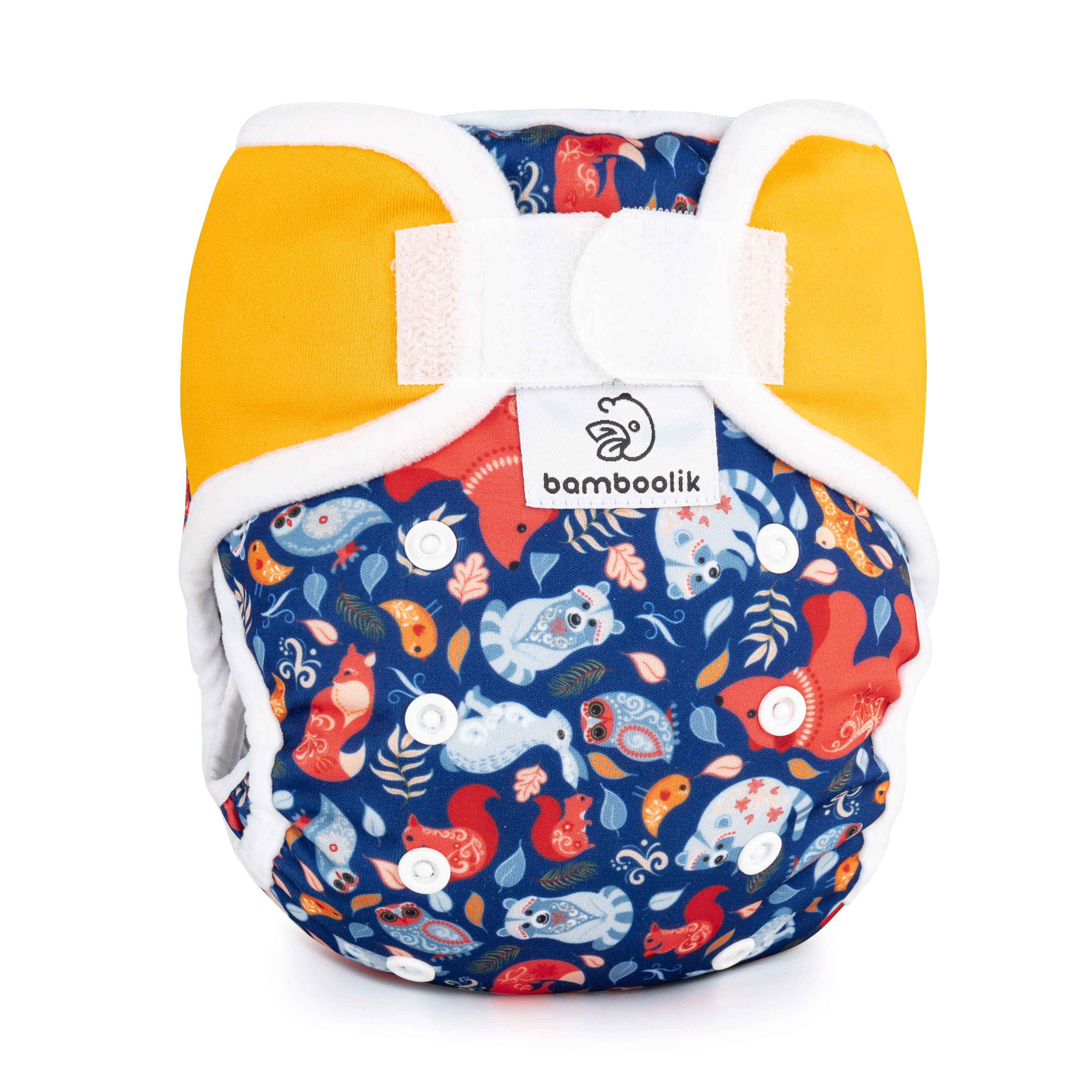 How many diapers should I count for the night?
In their newborn stage, babies poop after almost every feed, which means you have to change their diapers even at night (that's why we say you need 10 diapers a day for the newborn stage). Night pooping usually goes away at the age of a few months, which makes it the right time to introduce a night diaper. Look for something sufficiently absorbing for the night. Check our article Cloth Diapers at Night to find out more on this topic.
We recommend including 3 night-diaper changes in your cloth diaper stash—we swear by our Night Fitted Diapers.
Diaper Sets for those who don't want to make an Excel sheet for your baby's ... , uhh … diapers :-) (there's another word that would be very fitting and would even rhyme here... never mind :-))
A well-balanced cloth diaper stash can contain just one type of cloth diapers or their combination. If you want to build your very own and original diaper stash, it might take you a while to do it, carefully pondering all the criteria we've just mentioned. An Excel sheet might be a very logical solution :-)
Although we do have such in our team who made a thorough Excel for every baby they had, our minds are open, and we know that this approach is not for everyone and that's fine. To those of you who prefer to have their cloth diaper stash ready in just a few clicks: Our Cloth Diapers Sets are carefully constructed based on our numerous first-hand experience with diapers and babies.
Cloth Diaper Sets come in 3 sizes—Large, Medium, Small and 2 types—containing solely AI2 cloth diapers or combining them with our Pocket Diapers.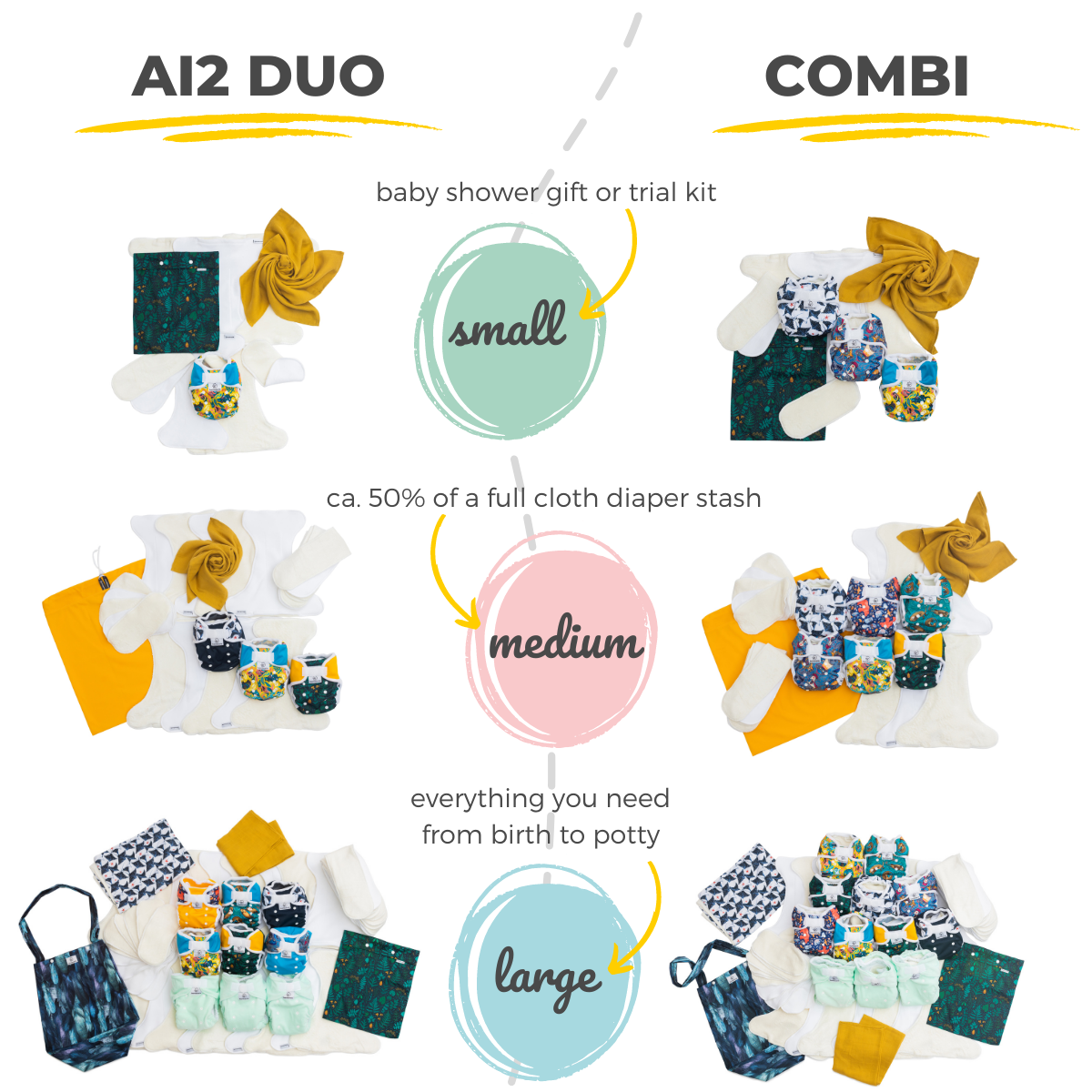 Don't forget your diaper accessories!
We highly recommend getting yourself a few packs of separation liners to get you through the newborn stage. Choose either our Stay-Dry separation liners (they're reusable and make your baby's bum feel dry under any circumstances—get one Stay-Dry liner for each diaper change that doesn't already have a Stay-Dry layer) or our disposable separation liners.
To store used diapers, get a diaper pail or a large wetbag (or both—use the wetbag as a liner for the pail so that you don't have to wash it every time you empty it). In case you're concerned about unpleasant odours, put one drop of essential oil (e.g. Tea Tree) in your diaper pail.
For when you're out and about, a small wetbag might come in handy.
And you will certainly make use of a waterproof changing mat. We'd take two of those, if we were you.
Check out our Happy Bottom Kit for gentle baby bottom care. (By the way, on condition you buy one of our Large or Medium Diaper Sets, you'll get a discount on our Happy Bottom Kit just for you!)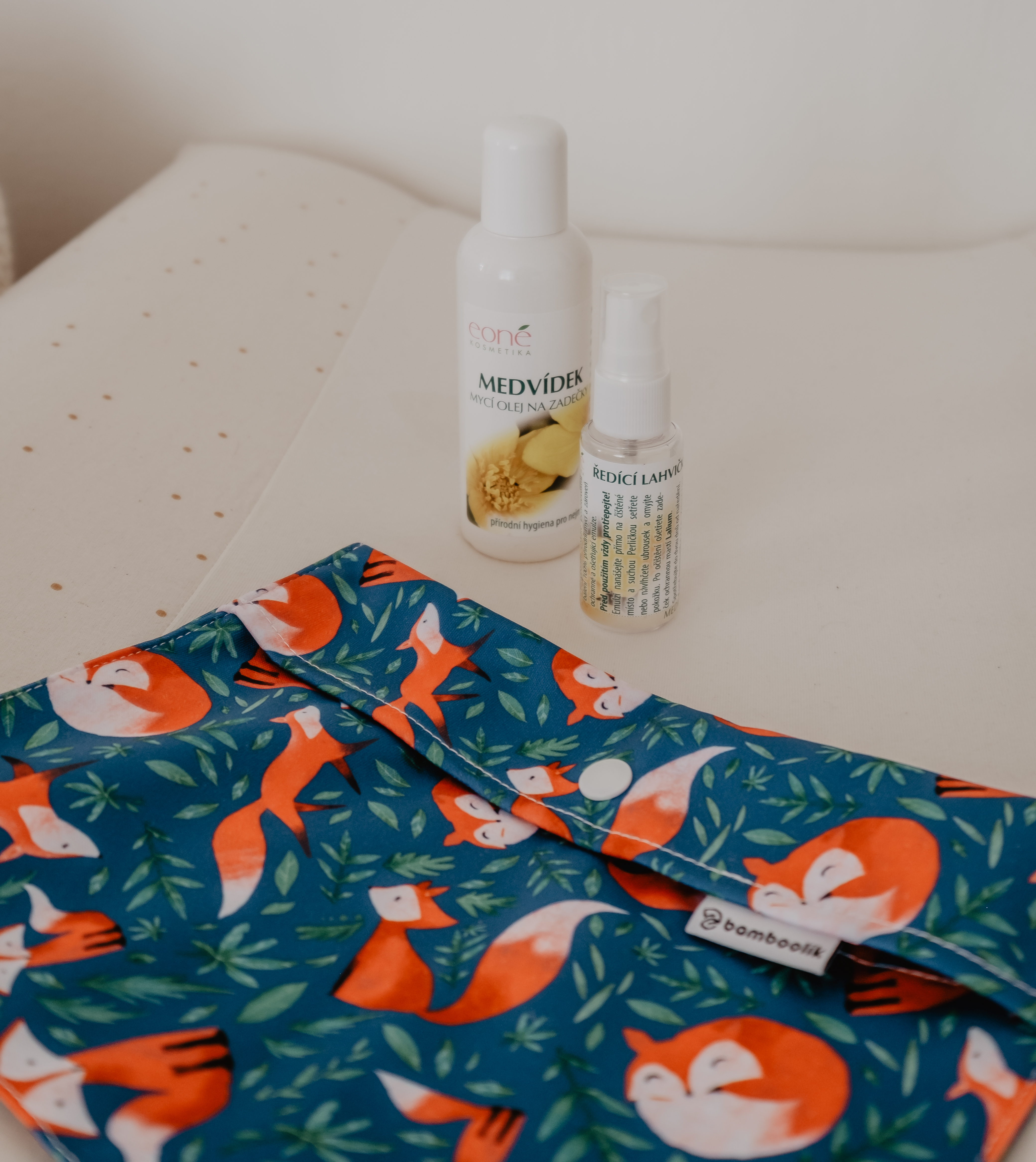 Any more diaper stash related questions that remain unanswered even after reading this article? Call us, drop us a line (feel free to do it right away—just jump to the chatbox here on our website), or message us on our social media. We're here for you!