DUO | Diaper Cover
Code:
92214
92213
92211
92020
92023
92013
92022
92012
92021
92011
99896
99819
99745
99744
99821
99818
99820
99817
99718
99715
92219
92218
Choose variant

Made in Europe

Free Shipping Possible

4 EUR Voucher for Newsletter Sign-up

Sustainable Business

Customer Care and Consulting
Related products
Product detailed description
Diaper Cover DUO
We've got you covered! With our PUL Diaper Cover — waterproof layer for cloth diapers. Diaper Cover holds all the liquids safely inside the diaper.
Diaper Cover DUO is used with absorbing inserts from our AI2 DUO System or over any other absorbing layer. Even a prefold or a Muslin Squares. Our Diaper Cover has little pockets in all its corners that secure absorbing inserts in place.
Why are there 2 different prices of the Diaper Cover?
You can choose between two types of design of our Diaper Covers: the "print" and the "classic" one.
The "Print" Diaper Cover has the same shape and functionality as the classic Diaper Cover. The difference is only in design. Our classic Diaper Cover has monochrome colour on the main part and printed design on the ears. In 2021, we answered the wishes of our customers and added the inverse design to our portfolio: diaper covers with colourful print on the main part and monochrome ears. As the printed material is more expensive, the price of the printed Diaper Cover is slightly higher as well.
Waterproof doesn't mean less breathable!
Modern Diaper Covers are waterproof but they let the skin breathe! Based on our own experience (and the experience of our customers), we can confidently say that babies in cloth diaper suffer less from diaper rash than in disposables. Consequently, parents of such children also suffer less
One Size
Diaper Cover fits from birth to potty, approx. from 4 to 15 kg. You can easily adjust its size by using snaps at the front of the Diaper Cover.
Double gussets around the legs = 100% leakproof
The more gussets, the more reliable Diaper Cover. There's also an elastic hem in the back – great prevention of the newborn milky stool leaking out in the back.
Fastening type - velcro or snaps?
In our book, velcro is more universal as the streak with loops is sewn on the entire front part — that means you can fasten the hooks exactly where you need with perfect precision. With snaps, you're limited to the spots we chose for the opposite snaps (there's a lot of them, but the variety will never be as broad as with velcro). On the other hand, it takes longer for toddler to learn to undo snaps. (But don't worry, one day, they WILL learn. And as with everything else, it's just a phase and it will pass.)
Which absorbing insert to choose?
Whichever you like :) We would recommend:
Why Bamboolik?
We're truly European. We buy all our fabrics in Europe, we manufacture in Europe (Czech Republic), partly in sheltered workshops. We think that an eco-friendly product, that has to travel half the world to get to its end customer, is not so eco-friendly any more.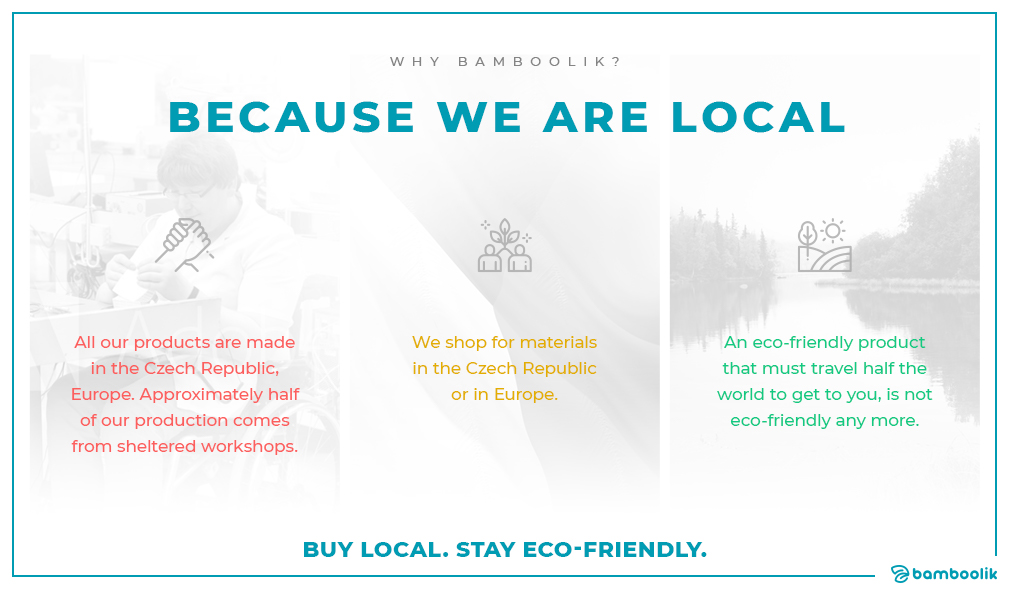 Tips on maintenance:
Wash before the first use. Can be machine washed at 60°C, not more. Stay away from fabric softeners and tumble dryer. Never iron and don't dry on a direct source of heat (could damage the waterproof layer).
CAUTION: Never wash laminated diapers by hand! Ever. Rough handwashing can mechanically damage the waterproof lamination. Washing machine is your best friend.

Additional parameters
Category

:

Diaper Covers (PUL)
Age

:

Newborn, Infant, Toddler
Colour

:

Aquamarine blau + Eisbären, Füchse + Weiß, Australische Tiere + Türkis, Dunkelblau + Rochen, Farnkraut + Safrangelb, Rosa + Blumen, Safran + Tiere des Nordens, Türkis + Einhörner, Verliebte Otter + Türkis, Eisbären + Wiese
FarbeX

:

Aquamarine blau + Eisbären, Füchse + Weiß, Australische Tiere + Türkis, Dunkelblau + Rochen, Farnkraut + Safrangelb, Rosa + Blumen, Safran + Tiere des Nordens, Türkis + Einhörner, Verliebte Otter + Türkis, Eisbären + Wiese
Grösse

:

4-15 kg
Verschluss

:

Klettverschluss / Druckknöpfe
AI2 Windelsystem Bamboolik
Cloth Diapers: AI2 (All-in-2) Diaper System
Be the first who will post an article to this item!