Reusable Overnight / Maternity Pad | Satin & Organic Cotton
Code:
92230
92231
Choose variant

Made in Europe

Free Shipping Possible

4 EUR Voucher for Newsletter Sign-up

Sustainable Business

Customer Care and Consulting
Related products
Product detailed description
Reusable overnight pads / postpartum pads
Get more pads, pay less! There's a discount if you buy in bulk ... Click the tab "SALE!" to see how it works.
Why reusable pads?
THEY'RE BREATHABLE. Crucial, if you're using reusable pads for a longer period (the night) or during the postpartum period in which breathability helps the healing process (breathability prevents inflammations and other gynaecological issues). Conventional disposable pads are made mostly of artificial materials that can never compete with cloth when it comes to breathability. Breathable pads = comfortable pads!
THE PERFECT CUT. We constructed our overnight / maternity pads so that they copy your body, fit comfortably into your underwear, and always stay put thanks to their wings. By the way, the wings are sewn on the body of the pad which is not cut from one piece, wings included, as most reusable pads are. This means nothing will leak on the wings and our night / maternity pads are 100% reliable. We made the front and the back of our pads longer so that you can always rely on them at night, regardless of your preferred sleeping position.
RELIABILITY. Our pads have a waterproof layer (from PUL—membrane-like material that is waterproof and breathable at the same time). We hemmed the body of our pads with satin so that nothing leaks on the wings. Our night / postpartum pads are tremendously absorbing—thanks to the organic cotton terry inside the pad.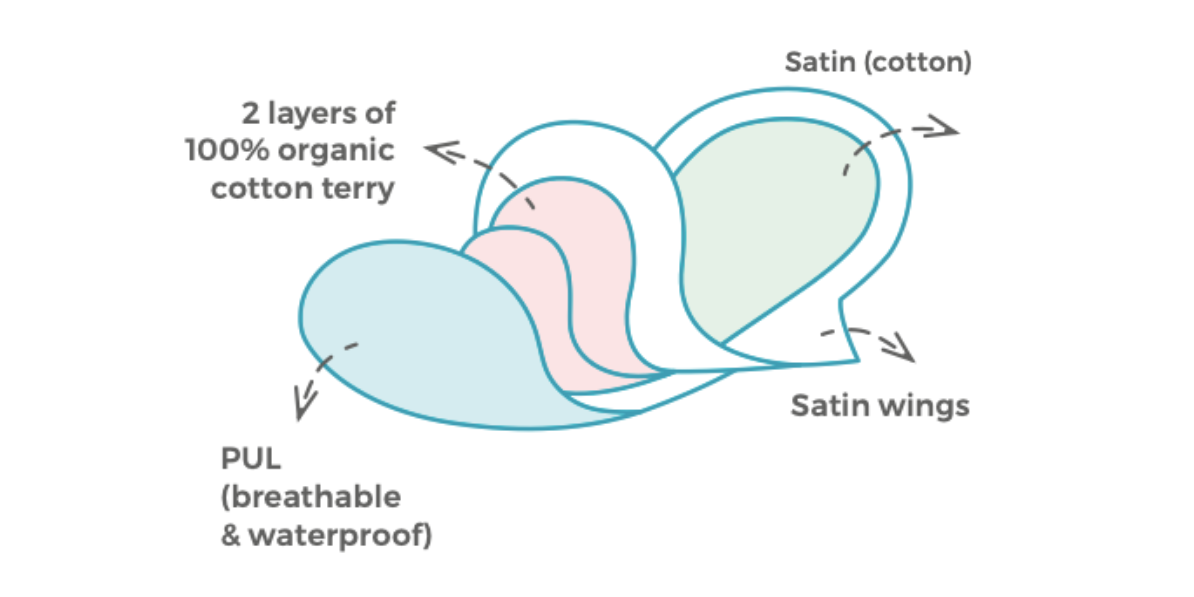 How to use overnight / maternity pads?
As any other sanitary pad of its kind! No big deal.
Wash your sanitary pads before the first use. (Don't be alarmed when the pad shrinks slightly after the first wash. It's just the first wash, it will not shrink any more.)
Put your pad in your underwear satin side up (patterned side should be used as the contact side). Secure it with wings.
Change your pad as often as you would a disposable, based on the level of your comfort.
After your period is over (or after four days, whichever comes first), machine wash your pads at 60 °C. We recommend soaking the pads prior to washing in cold water for a few hours (to dissolve haemoglobin that might stain your pads for good).
All our reusable pads can be tumble dried.
When using these pads as maternity pads in the first days after delivery, your bleeding is most likely quite heavy. Therefore, we recommend soaking and washing your pads more often than after the recommended 4 days. (However, it's really the first week after childbirth, in the following weeks of postpartum, your bleeding doesn't from your standard period that much.)
More info on reusable pads maintenance can be found in this article.
Reusable pads can also be used as incontinency pads.
How many pads do I need?
The length of a menstrual cycle is very individual, as well as the length and intensity of postpartum bleeding. Absorbing capacity of our reusable pads is tremendous, it compares to the absorbing capacity of disposable sanitary pads and may be even better in some cases. Therefore, the number of pads you'll need is pretty much the same as the number of disposable pads you would use.
For postpartum bleeding, your bleeding will most likely be the heaviest in the first two weeks after you've had your baby. For the remaining weeks of postpartum, you'll be fine with regular sanitary pads, for the last week panty liners may suffice. (Both types of pads can be used later on when your regular menstrual cycle comes back.)
Proportions of our overnight / maternity pad: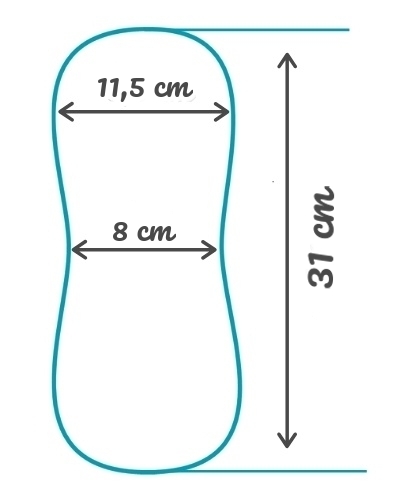 Another overnight / postpartum option of a reusable pad would be our Reusable Overnight / Maternity Pad Organic Cotton Terry. What is the difference between these two types?
Satin Overnight / Maternity Pads are more absorbing as they have one more absorbing layer. These pads are our most absorbing ones!
Satin pads hold their shape better.
Cotton terry pads are softer and their fabric is more flexible.
And one more thing: Our pads are manufactured in our  small sewing factory  that employs mothers of small children or single mothers. From women to women :-)
Live Webinar: FAQ Reusable Sanitary Pads
Reusable pads for an eco-friendly period
Stoffbinden für die Zero Waste Monatshygiene
Be the first who will post an article to this item!