AI2 DUO | Large Diaper Set
Code:
92161
92106
Choose variant

Made in Europe

Free Shipping Possible

4 EUR Voucher for Newsletter Sign-up

Sustainable Business

Customer Care and Consulting
Related products
Product detailed description
AI2 DUO | Large Diaper Set
From birth to potty, everything you need to change your baby. In one purchase. One cloth bag of diapers as opposed to one ton of non-biodegradable waste (the amount of used disposables that a baby produces throughout their diaper period).
Large Diaper Set for those who are looking for a complex solution. You save your family budget as well as the environment! (Converting to cloth can save you ca. 300 EUR.)
Large Diaper Set contains diapers from our AI2 DUO diaper system - a universal cloth diaper system that combines greatly absorbing diaper inserts with waterproof Diaper Covers that don't need to be washed after every time you use them (it's sufficient to let them air out for one changing cycle and you can use them again).
The basic absorbing insert of this system is the DUO Shaped Absorbing Insert with Pocket that can either be used on its own or its absorbency can be boosted by DUO Short Insert or DUO Long Insert. Our DUO absorbing inserts are double-sided - they have different finish on each side which can be used according to your needs and preferences:
Bamboo terry for great and quick absorbing capacity.
Stay Dry layer for keeping your baby's bum dry under any circumstances. Perfect for:

newborns
for longer naps for bigger babies
for longer car trips
children with sensitive skin that can easily be irritated by wetness
What are the contents of this set? Click on the Set Contents tab and find out!
AI2 DUO takes care of your baby's bottom from birth to potty.
And how did we count the savings? Like this: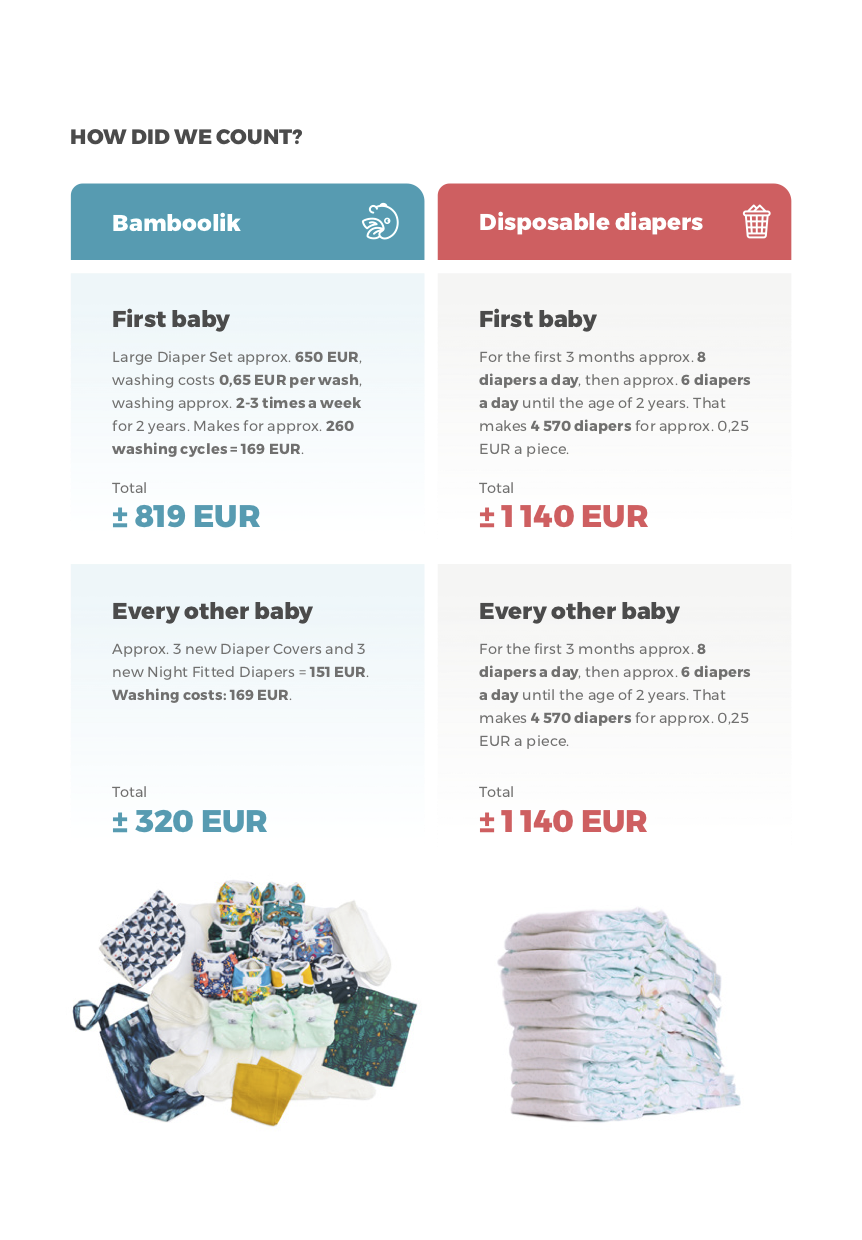 Cloth Diapers: AI2 (All-in-2) Diaper System
Cloth Diapers: AI2 (All-in-2) Diaper System
Be the first who will post an article to this item!