Economy | Large Diaper Set
Code:
92684
92683
Choose variant

Made in Europe

Free Shipping Possible

4 EUR Voucher for Newsletter Sign-up

Sustainable Business

Customer Care and Consulting
Related products
Product detailed description
Economy | Large Diaper Set
By purchasing this set, you are entitled to buying additional related products with a 15% discount. Click here for more info.
An affordable diaper solution for those who are searching for cheap cloth diapers. That said, cheap doesn't mean compromise on quality and comfort! This set has your back covered from birth to potty.
Our Economy Diaper Set contains:
Microfiber Prefolds — universal prefold diapers to be put as absorbing layers into diaper covers. Microfiber prefolds are very soft and easy to fold — can be folded into a newborn fold effortlessly. They dry really fast so you can wash and dry them within one day. That's why they're truly economical — you don't need many.
Diaper Covers – waterproof one-size diaper covers that fit babies from 4 to 15 kg. Their membrane-like fabric is very breathable — bye-bye diaper rash! Choose your preferred type of fastening — snaps or velcro.
Stay Dry Diaper Liners — for keeping the bum dry even in a very wet diaper. Stay Dry Diaper Liners divert wetness away from skin and make the diaper changing job less dirty — it's easier to get rid of a diaper's content when you use diaper liners.
Prefold Economy Diaper Set Is the Best Choice when:
Money is your biggest concern and you're looking for a cheap diaper solution. The money you invest in the Economy Diaper Set will be returned in approx. 5 months (taking into account the cost of disposable diapers).
You need diapers that dry fast — e.g. you live in a small flat with no tumble dryer.
Want to know the exact items you get in this Diaper Set? Click the Set Contents tab.
Special Offer: Discount for additional items when purchasing a diaper set
Pick one of our Medium or Large Diaper Set, and an option to buy additional related products with a 15% discount will appear automatically in your shopping cart.
Top up your diaper layette with extra absorbent night fitted diapers, with luxurious organic cotton absorbent inserts, or with washable shaped nursing pads. All the discounted items are listed in our category Discounts & Gifts.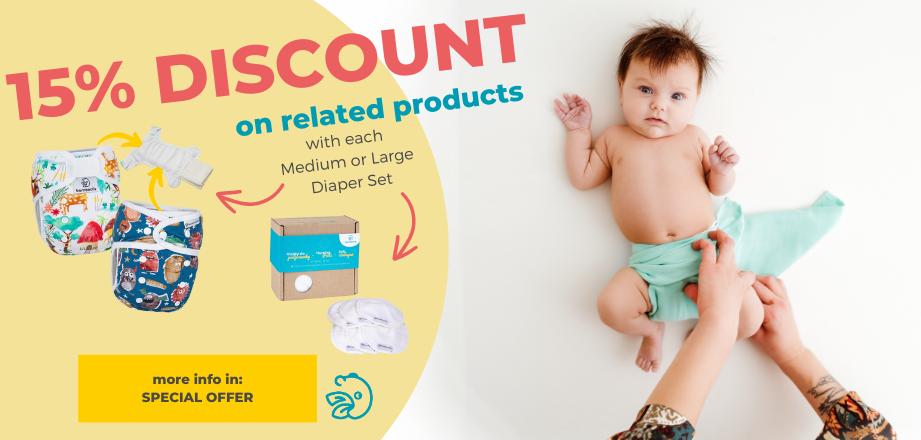 Absorbent Booster Prefold
Universale stark saugfähige Einlage
Be the first who will post an article to this item!