Night | Fitted Diaper with Absorbing Insert
Code:
92430
92400
92431
92401
92432
92433
92403
92434
92404
92435
92405
92659
92656
92669
92666
Choose variant

Made in Europe

Free Shipping Possible

4 EUR Voucher for Newsletter Sign-up

Sustainable Business

Customer Care and Consulting
Related products
Product detailed description
Night

| Fitted Diaper with Absorbing Insert
What makes Fitted Diaper a good fit?
Fitted Diapers are the most sophisticated absorbing layer of AI2 (All-in-2) cloth diaper systems.
As opposed to more simple absorbing inserts, Fitted Diapers have the most complicated cut and construction. Which makes them... well, fitted, hence the name :-) Elastic gussets around the legs and an elastic hem in the back make them hug tiny baby bodies in all the right places while still being very comfortable and not too bulky.
It's designed to be worn under a waterproof Diaper Cover. Which doubles the protection against any possible leaks.
Thank to this, we can confidently say that the combination of a Fitted Diaper + a Diaper Cover is 100% leakproof. Not even liquid newborn stool can penetrate it.
What is special about Bamboolik's Night Fitted Diaper?
It's made of certified organic cotton of European origin (the most sustainable cotton you can get). When choosing diapers made from this kind of cotton, you actually choose to save the environment twice—once by using reusable diapers in lieu of disposables, once by opting for a more eco-friendly fabric.
It has  a pocket  stuffed with an Organic Cotton Prefold, thanks to which this diaper is really super-absorbent. You will probably not need to change the diaper all night long (unless your baby has been drinking a lot before or during the night).
In case you already have prefolds or any other highly absorbent inserts at home, you can just purchase this Fitted Diaper without any insert, and stuff the pocket as needed.
The Stay-Dry inner layer of the diaper helps to keep the baby's  skin dry all night long, so there is no risk that the wet diaper wakes your baby up. Babies with sensitive or diaper-rash-prone skin will appreciate this in particular.
Our Fitted Diaper has a very slim fit. It's usable for babies from just 3,5 kg and its size is easily adjustable thanks to four rows of snaps in the front. It will be your loyal companion from birth to potty.
To quote our testers (because we always test our diapers in real life on real babies): This diaper is super soft and fluffy and hugs babies in all the right places—it's neither too loose nor too tight in the groins.
As all our diapers (and all our other products), it's entirely made in Europe (find out more about our production here) and from European fabrics (yes, including the organic cotton) in a socially responsible company.
What are the differences between all our one-size fitted diapers for the day & the night? Just check out this picture below: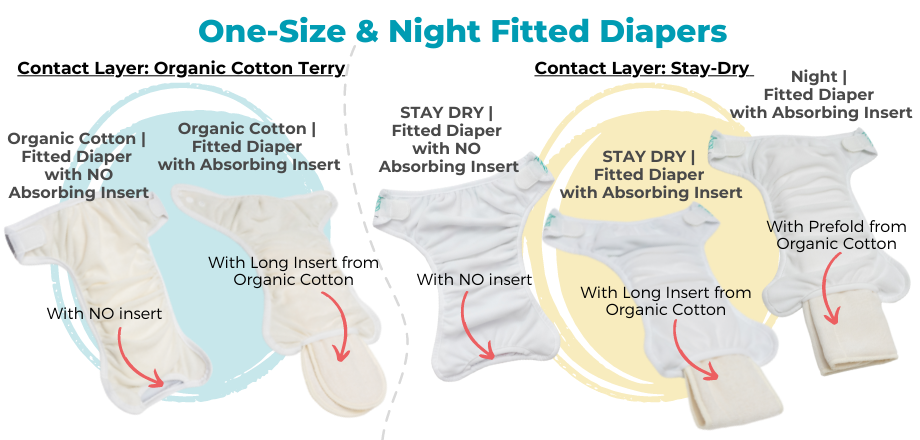 If you want to see how a Fitted Diaper fits with your own eyes, click the VIDEO tab.
Fastening type - velcro or snaps?
In our book, velcro is more universal as the streak with loops is sewn on the entire front part — that means you can fasten the hooks exactly where you need with perfect precision. With snaps, you're limited to the spots we chose for the opposite snaps (there's a lot of them, but the variety will never be as broad as with velcro). On the other hand, it takes longer for toddler to learn to undo snaps. (But don't worry, one day, they WILL learn. And as with everything else, it's just a phase and it will pass.)
A great choice to use over the Fitted Diaper is our Pull Up Diaper Cover. It is easy to put on even over a fully stuffed diaper, and to use for an active toddler who refuses to lie down.
OUR TIP ON MAINTENANCE: Want to increase the longevity of your Fitted Diaper? Put it on a drying rack instead of tossing it into the tumble dryer. It won't take too long to dry on condition you take out all absorbing inserts from the pocket (those can be put into your tumble dryer, they're not so prone to wear and tear). And empty Fitted Diaper dries completely in a few hours.
For more info on maintenance, check out our diaper washing and maintenance article.
Fitted Diaper by Bamboolik
Höschenwindel Bamboolik
Be the first who will post an article to this item!