Value Sets | Reusable Panty Liners | Organic Cotton Terry
Code:
92261
99198
92263
99433
92572
92570
92573
92571
Choose variant

Made in Europe

Free Shipping Possible

4 EUR Voucher for Newsletter Sign-up

Sustainable Business

Customer Care and Consulting
Related products
Product detailed description
Reusable Panty Liner | Organic Cotton Terry - Value Packs
Cloth panty liners as an alternative to disposable menstrual pads and panty liners. Why? Because one average woman produces approx. 150 kg of non-biodegradable waste throughout her productive life. And by waste we mean used disposable menstrual pads/tampons.
Feeling shocked by this number? Let's say something positive now:
Why cloth panty liners?
Because they're sooo comfy! Disposable panty liners are mostly made of artificial materials, while here's certified organic cotton. That's a different league.
They're much more breathable than disposables. Which makes them perfect for women who suffer from repeating infections and similar problems down there.
They're thin but super absorbing.
Our panty liners have the best fit! They're not cut from one piece of fabric, wings included. The wings are sewn on and separated by a hem around the "body" of the liner. That means nothing will leak onto the wings and the liner always stay put.
They're a delight to look at! (Although no-one will see them. But it doesn't matter, you'll know! Walking around with a beautifully designed piece hidden in your underwear counts! :-))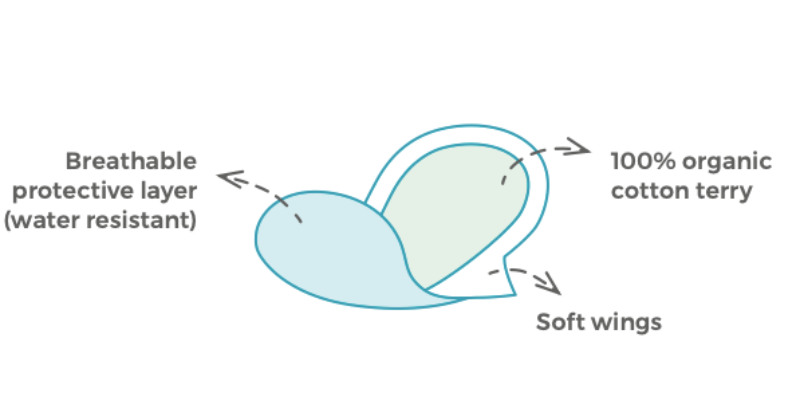 When to use a panty liner?
For days of cycle with a light flow (have a look at our day pads for regular flow days) .
As a back-up to your menstrual cup.
Very suitable who those who suffer from light/stress incontinency.
You can use them daily in case you use panty liners to prevent inflammations and other not-so-pleasant issues. Cloth panty liners are breathable, without any artificial additives. Disclaimer: Repeating problems down there might be caused by perfumed panty liners that are not breathable and might interfere with natural healing process. Switching to cloth might break this vicious cycle (pun intended).
And one more thing: These pads were manufactured in our small sewing factory that employs mothers of small children or single mothers. From women to women :-)
How many cloth pads do I need?
You need approximately the same number of cloth sanitary pads as you would need of disposable sanitary pads for one menstrual cycle.
Measurements: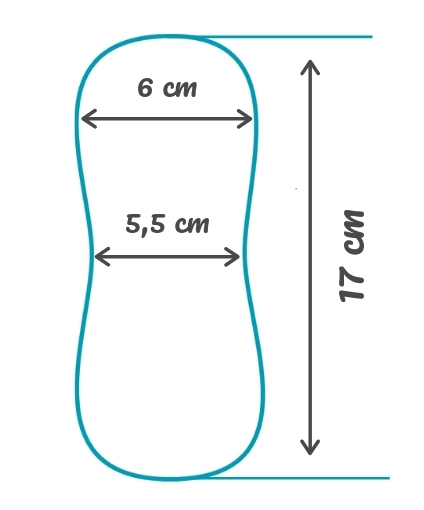 Usage:
Place the liner on the crotch of your underwear, with the patterned side facing your body = the monochrome fleece side facing your underwear. Fix the liner on the spot using the snap or velcro fastening.
Maintenance:
Wash before the first use. For more information about maintenance, look here.
Please note: After the first washing, the length of the product may be slightly shortened, as it is made from natural material (100% cotton), which tends to shrink by its nature. After it shrinks this one time, the length of the product is fixed and no further shortening occurs.
Still don't know for sure what period products are for who and when? Read our article on the eternal dispute: Sanitary Pads vs Tampons. Or have a look at another one where we describe in detail all eco-friendly period products — so that Mother Nature doesn't bleed with you.
Additional parameters
Category

:

Panty Liners
Colour

:

Natur
Contact Layer

:

Organic Cotton
FarbeX

:

Natur
KontaktschichtX

:

Bio-Baumwolle
Verwendung

:

Hygiene
Bestimmung

:

Frauen
Grösse

:

17 x 6 cm
Verschluss

:

Klettverschluss
Stück im Set

:

3
Live Webinar: FAQ Reusable Sanitary Pads
Reusable pads for an eco-friendly period
Stoffbinden für die Zero Waste Monatshygiene
Be the first who will post an article to this item!