Training Pants
Code:
92731
92733
92735
92730
92732
92734
92092
92095
92098
92090
92093
92096
92091
92094
92097
92906
92907
92908
99857
99858
99859
92900
92901
99854
99856
92593
92594
92595
Choose variant

Made in Europe

Free Shipping Possible

4 EUR Voucher for Newsletter Sign-up

Sustainable Business

Customer Care and Consulting
Related products
Product detailed description
Training Pants PUL
Want to start potty training your baby? Or have you already started but you're not 100 % there yet and need some kind of back up for naps, travels etc.?
Bamboolik Training Pants are here for potty training beginners as well as more advanced trainees :-) It's all about what you put inside the pants.
How does it work?
Bamboolik Training Pants are waterproof. That means any wetness will be safely locked inside. Clothes and nearby surfaces are therefore safe.
Bamboolik Training Pants sport elastic jersey around the waist. That gives you the option to pull down the pants, put your baby on the potty and then pull the pants up again. Toddlers may even do this themselves which will make them feel like a big girl/boy! In real underwear!

However, in case of an accident, there's no need to pull down the pants and take them off (which usually means taking off shoes as well). You will appreciate this especially in cold weather but even in summer, who wants to pull down pants that have been peed on? Simply unsnap the Training Pants around the waist, pull them out between the legs, change the absorbing insert and continue in your potty training as if nothing has sshappened.

It's up to you what kind of an absorbing insert you choose. And which shall you choose, you ask?
Absorbing Insert for Training Pants:
The biggest pro of Bamboolik Training Pants: They can be used with ANY absorbing insert! Anything you have at home will do. Even if you didn't use cloth diapers for your baby, you certainly have something at home that can be use – what about an old muslin square?

In case you used cloth diapers for your baby, you can use Bamboolik Training Pants with any absorbing insert. There's a pocket inside that's lined with elastic hems – making sure that no absorbing insert will move around in the pocket.
Which Bamboolik absorbing insert would you recommend?
That depends! We would choose:

Long Absorbing Insert

for a potty training rookie as it will easily absorb a full dose of pee.

Short Absorbing Insert

for a more advanced potty trainee. For when you expect only a few drops aka your sprint to the bathroom was not fast enough.

For older toddlers (3 years and older) who you expect to let loose a whole dose of pee in the pants, this combo will be the best: Training Pants size XL +

Absorbent Booster.
PLEASE NOTE: If using Bamboolik AI2 DUO Absorbent Inserts (Long or Short) with Training Pants, always hide the Stay Dry layer inside the pants. It's the bamboo layer that should be touching your baby's skin. With Stay Dry layer your baby would feel comfortably dry (pretty contradictory to the whole point of potty training). In case you don't have the DUO inserts (or any other ones) yet, we'd recommend you to choose our Organic Cotton Absorbent Inserts. 
Bamboolik Training Pants come in three sizes. Each size of pants can be snapped in three different (sub)sizes. See the table below for the measurement range of each size - measured while unstretched. Please, bear in mind that the waist is pretty elastic so it can be stretched further.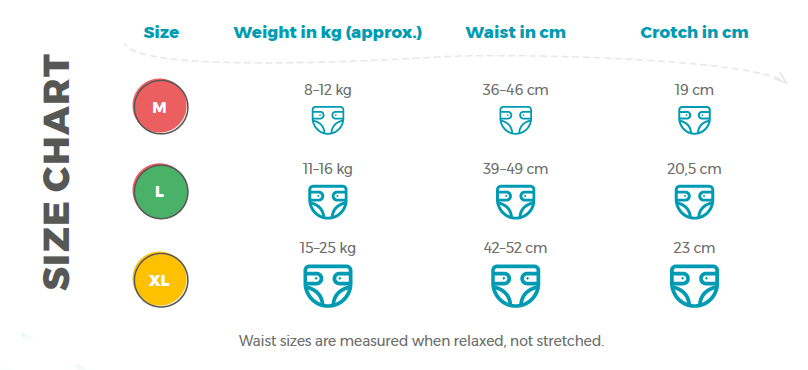 Additional parameters
Category

:

Potty Training
Age

:

Toddler
Colour

:

Blumen, Füchse, Australische Tiere, Eisbären, Einhörner, Farnkraut, Rochen, Tiere des Nordens, Verliebte Otter
FarbeX

:

Blumen, Füchse, Australische Tiere, Eisbären, Einhörner, Farnkraut, Rochen, Tiere des Nordens, Verliebte Otter
Verwendung

:

Töpfchentraining
Grösse

:

11-16 kg
Potty Training with Bamboolik
Be the first who will post an article to this item!