Period Pants | Underbelly univers | Lighter Period
Code:
92553
92559
92560
92561
Choose variant

Made in Europe

Free Shipping Possible

4 EUR Voucher for Newsletter Sign-up

Sustainable Business

Customer Care and Consulting
Related products
Product detailed description
Period Pants Underbelly
Get more pieces of period pants & pay less! There's a discount if you buy in bulk ... Click the tab "BULK DISCOUNT" to see how it works.
Choose Period Pants of various types, sizes and colours! Made in the EU. 
sizes from small to plus size period pants (S – XL), 
colours for all – a variety of bold trendy colours,
absorbing capacity: 

light to medium flow
medium to heavy flow

Benefits of Underbelly Period Pants:
They're made of MicroModal which makes them extra comfortable to wear and easy to maintain. 
They're reliable — with a waterproof but still breathable inner membrane.
Their cut makes them the best period pants — they don't bulk, squash or strain you. The elastic in the waist fits perfectly. 
We like their colour variety — finally, period panties in bold colours!
They're made entirely in the EU — they're the best fit for us not just literally but also figuratively. Bamboolik swears by local and sustainable production, too. 
How Do Underbelly Period Pants Work: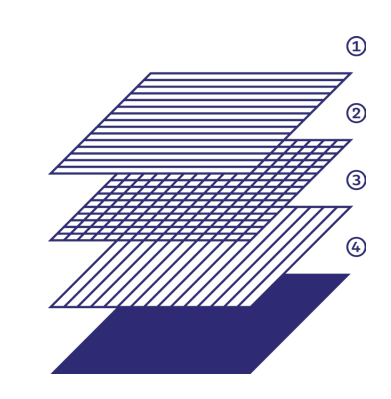 There are four layers inside the Underbelly Period Pants. Each of them has a different function: 
Contact layer. It transfers menstrual blood into deeper layers of the pants. This means: Underbelly Period Pants never get uncomfortably cold or wet. Contact layer is soft to touch. It also has antibacterial properties thanks to added silver particles.    
Absorbing terry layer. It can absorb as much menstrual blood as a few regular tampons ( period pants – approx. 2 tampons, period pants – approx. 3 tampons).
Waterproof membrane. Perfectly breathable and with high water column. No need to worry about unwanted red stains on your clothes. You never feel uncomfortably hot in breathable underwear. Which makes period pants the perfect choice for summer days — under a sundress or a wide skirt.
Outer layer is made of MicroModal which makes the Underbelly Period Pants look like regular (and beautiful!) underwear. It's soft to touch and its shape doesn't budge. Thanks to added elastane fibres, you can be sure your period pants will neither stretch out nor shrink.
How to Use Period Pants:
They're the best choice for young girls who have just recently started their periods and are still getting the hang of it. Underbelly Period Pants have a youthful design and are as comfortable as regular underwear.
For days with light or medium flow — which means you don't have to change your period pants during the day. You can pretend it's a day like any other and aunt Irma stayed at home.
Those of us with heavy flow often use multiple menstrual products at once (typically, a tampon and a sanitary pad or panty liner or a menstrual cup and a reusable sanitary pad or panty liner). Period pants can replace the pad in these cases and serve as a backup to your tampons or your menstrual cup.
If you're at ease with your cycle so much that you practice the free bleeding method, period pants are a useful backup for days when you feel like you need some security. Your period pants may be spotless at the end of the day but you won't have to ask for a break during a long meeting. 
Period pants are most comfortable in summer! Under a flowy skirt or a sundress, you won't reveal your secret not even after a sudden gust of wind. Changing your panties under a skirt is easy, which makes the period pants a good fit even for those with a heavier menstrual flow.
Period pants get you covered if you suffer from light incontinence.
How to Wash Period Pants:
No big deal. If your period pants are soiled, rinse them in cold water at first. By doing so, you prevent unwanted stains that last (haemoglobin will stain your pants for ever when it gets mixed with warm water).
After rinsing, just machine wash your period pants with similar colours. Underbelly recommends washing them at 40°C, we have tested also 60°C and it went well. Pants didn't shrink and their functionality was left intact. Just stick to Underbelly's recommendation when it comes to detergent — use a liquid and eco-friendly one.
Don't use fabric softeners, don't iron or tumble dry your period pants (heat might damage the waterproof membrane).
How long do period pants last? Years, if you take good care of them. They help you save your money as well as the environment. An average periodic life produces about 150 kg of non-biodegradable waste. And you don't want to be average anyway, do you?
Our tip for transporting of used period pants: A waterproof bag (if you need to change the pants during the day). Discreet and machine-washable. 
Find all your answers to your questions about period pants here: 
Interested in eco-friendly period products? Here's our overview of them.
Or read our general overview of period products in our article Sanitary Pads or Tampons.
Be the first who will post an article to this item!