Period Pants | Yuuki | Heavier Period
Code:
92530
92531
92532
92533
Choose variant

Made in Europe

Free Shipping Possible

4 EUR Voucher for Newsletter Sign-up

Sustainable Business

Customer Care and Consulting
Related products
Product detailed description
Period Pants| Yuuki
Get more pieces of period pants & pay less! There's a discount if you buy in bulk ... Click the tab "BULK DISCOUNT" to see how it works.
Most Reliable Period Pants
Elongated absorbing padding of Yuuki Period Pants reaches up to the top hem at the back. Contrary to other brands of period pants, Yuuki period pants are suitable even for heavy bleeding days.
The padding is absolutely decent. Invisible from the outside and you never feel it between the legs. Discreetness first! The cut is hugging just the right way (not too tight, not too baggy), they fit well and don't roll down. Perfect for curvy women. Available in sizes S—XL.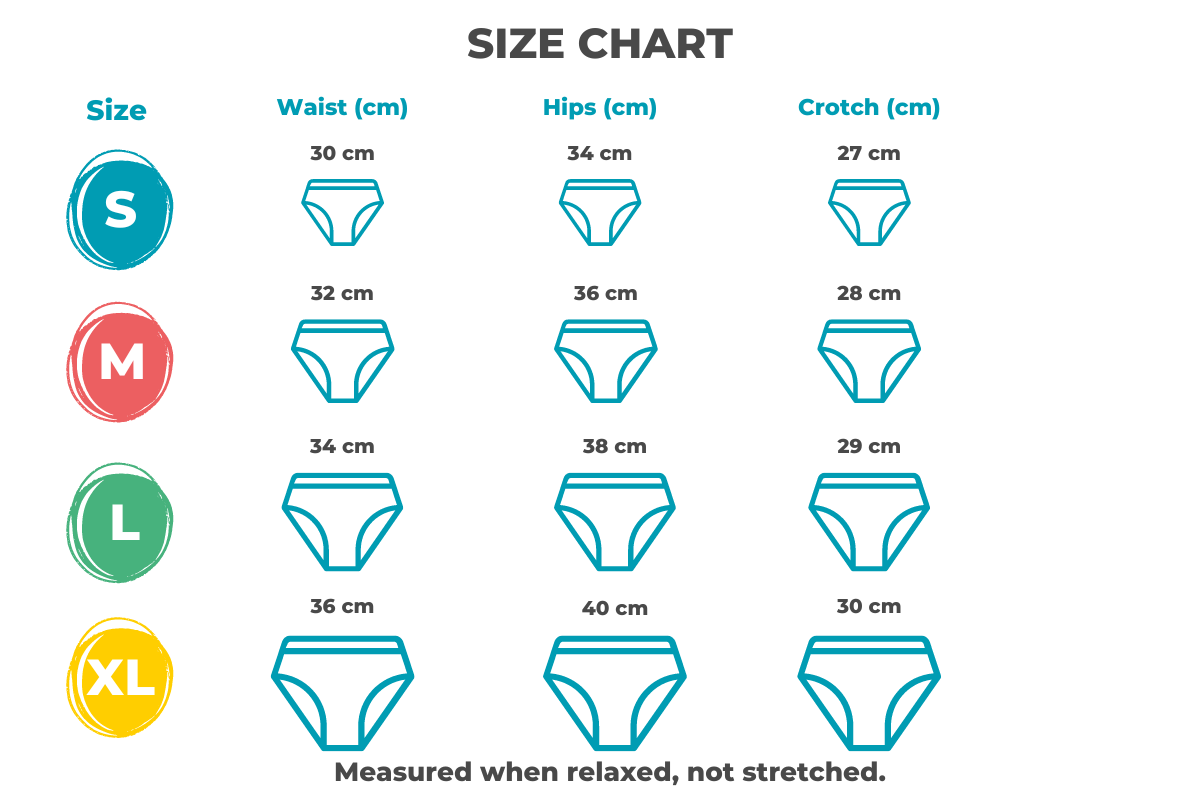 3 Layers of Yuuki Period Pants:
Super soft cotton layer next to skin — diverts wetness away from the skin into the absorbing core.
Cotton absorbing layer — absorbs blood. The absorbing capacity compares to about 3 regular size tampons.
Waterproof layer from TPU (thermoplastic polyurethane) for 100% reliability. These pants got you covered!
When to use period pants?
They're great for girls who have just gotten their periods. Teenage girls often get uncomfortable with sanitary pads and inserting a tampon may seem like a daunting task to them. Period pants look and feel like regular underwear.
For days with light or medium menstrual flow— when you don't need to change the pants during the day. Especially in colder months, when changing your underwear requires you undressing completely.
On the other hand, during warm summer days, period pants are a great choice for everyone. Changing them under your sundress is super quick and you don't have to worry when the wind blows — nothing will peak out :-) Period pants look like regular underwear. A decent looking one!
Period pants are a favourite for those who practice free bleeding and use period pants as backup. In that case, it doesn't matter whether your flow is heavy or light.
Period pants are popular also as incontinence pants.
Thanks to elongated absorbing padding, these pants got you covered even at night! No matter if you sleep on your back or on your belly and how much you toss and turn at night.
Still don't know for sure what period products are for who and when? Read our article on the eternal dispute: Sanitary Pads vs Tampons. Or have a look at another one where we describe in detail all eco-friendly period products — so that Mother Nature doesn't bleed with you.
For more info on composition and maintenance of period pants, click the Parameters tab.
Wash your period pants at 30°C (they're machine-washable) with similar colours, don't iron or tumble dry them.
Yuuki Period Pants have been designed and developed in the Czech Republic, Europe. They're made in China under Czech supervision.
Be the first who will post an article to this item!